Some cities drop
pickles
,
roses
and
bologna
at midnight. But on Highmark First Night, the ball rises as the clock strikes midnight on New Year's Eve.
Now in its 24th year,
Highmark First Night
, sponsored by Highmark Blue Cross Blue Shield and presented by the Pittsburgh Cultural Trust, returns on Dec. 31 with more than 100 events throughout Downtown's 14-block Cultural District. (While some First Night performances and attractions take place outdoors, most are indoors.)
This year's theme, as announced this morning at a press conference Downtown, is "Love, Peace, Pittsburgh."
The festivities begin at 6 p.m. with
children's fireworks sponsored by Dollar Bank
on the Highmark Stage. Afterward, steelpan band
Barrels to Beethoven
kicks off the night's musical performances with its energetic tropical sound.
Other attractions include the
Allegheny Health Network Parade,
with Grand Marshal Randy Gilson, artist and creator of the North Side's Randyland, at 8 p.m.; performances by Arcade Comedy Theater's
Penny Arcade
, at 6:30 p.m. and 7:30 p.m., and
Player One, at
9 p.m. and 10 p.m. at its new location at 811 Liberty Ave.; and
Joe Grushecky & The Houserockers
at the Benedum Center, at 7 p.m.
Outdoor warming and cell-phone charging stations return this year, and are located at the August Wilson Center and Katz Plaza.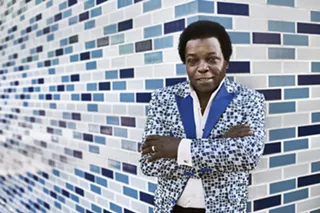 Lee Fields & The Expressions
headline the night, performing soul and funk anthems from 10:45 p.m. to 12:10 a.m. at the Highmark stage, at Liberty and Stanwix. During the performance, Lee and company will ring in the New Year with the raising of the
Future of Pittsburgh Ball
and Zambelli fireworks.
Admission buttons for First Night are $10, and are free for children 5 and under. They are available online at
www.firstnightpgh.trustarts.org
, in person at the box office at Theater Square on 655 Penn Ave.; or by phone at 412-456-6666. They are also available at a $1 discount with an Advantage Card at participating Giant Eagle stores.
For $40, attendees can purchase First Night Friend VIP buttons that grant access to priority seating, parking and a private lounge in the O'Reilly Theater, where they can relax with hot beverages and sweet treats.
For more information and a complete list of events, visit
www.firstnightpgh.trustarts.org
.