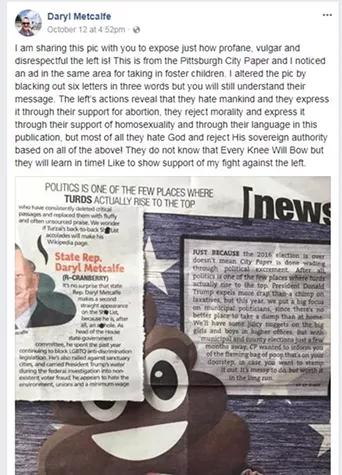 On Oct. 12, state Rep. Daryl Metcalfe (R-Cranberry) discovered
City Paper
's 2017
Shit List
issue, which was first published on Aug. 2. Metcalfe wrote on his
personal Facebook page
, "I am sharing this pic with you to expose just how profane, vulgar and disrespectful the left is!" and included a picture of a cut-out paper version of his entry on the 2017 Shit List next to the poop-emoji used to illustrate the list.
Metcalfe claimed
CP
's article was in the "same area" as an ad for a foster-care service provider in
CP
's print issue. He then went on to claim
CP
and "the left" hate mankind, support abortion, reject morality, support homosexuality, and "hate God and reject His sovereign authority based on all of the above."
Of course, most of Metcalfe's claims are nonsense. One, the foster-care ad is actually several pages from the Shit List article. Second, there is no quantifiable way to judge if
CP
hates or loves mankind, but considering that we have written stories shining a light on issues facing
Latino immigrants
,
African-Americans
,
LGBTQ
Pennsylvanians,
rural white people
,
Asian
and
African refugees
,
low-and-middle income
Pittsburghers, the
wrongfully imprisoned
, people suffering from
health issues
,
high-school students
in Metcalfe's district, etc., it's easy to believe that
CP
falls on the love-mankind side of the spectrum.