Pittsburgh has more than 700 publicly owned steps and if you have been paying attention to them, you know many are in bad shape. But city officials are trying to change that, and it appears they are on their way to receiving some help.
Pittsburgh is a finalist in the third round of the City Accelerator contest run by the foundation coalitions Living Cities and the Citi Foundation. Once the winners are announced, the accelerator will work with three cities over an 18-month period "to advance innovative efforts that improve the lives of low-income people and help cities run more effectively."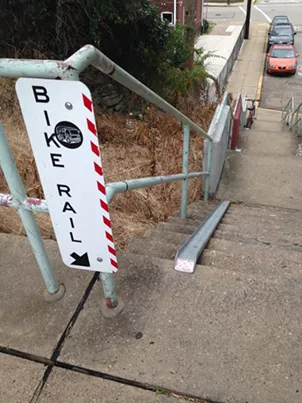 "The steps are vital assets [and] they're one of Pittsburgh's most unique features," wrote Alex Pazuchanics, a policy advisor for Mayor Bill Peduto in an email to
City Paper
. "Steps are essential to creating walkable communities in terrain like ours. They're true intergenerational assets."
Pazuchanics says the mayor's office discovered the contest through chief of staff Kevin Acklin's previous involvement with Living Cities, which brings together chiefs of staff from cities across the country to collaborate. He adds that when the mayor first took office, there was not even a list of all the city-owned assets, like steps.
"We are getting much better about understanding the challenge and identifying and prioritizing the needs," says Pazuchanics. "Now we need to explore the best option for how to pay for it."
Winners receive a limited amount of capital for their projects, but gain valuable techniques and training from some of the world's largest public-private partnerships on how to develop funding mechanisms, according to Pazuchanics.
"I think steps play a huge role in livability for our neighborhoods," wrote Pazuchanics. "We're experiencing growth in our walkable communities because the world is coming around to a concept many Pittsburghers already knew — it is desirable to live in a dense, walkable neighborhood with transit and vibrant community assets."
The newly formed group PGH Walks couldn't agree more. The pedestrian-advocacy group formed last fall in response to the deaths of cyclists Susan Hicks, and pedestrians Henry Walker and his wife, Carol Christine Williamson. All were struck by vehicles, and both incidents occurred within one week in October 2015. (Read
City Paper
's coverage about the deaths and Pa.'s lack of enforcement for cyclists and pedestrian fatally struck by vehicles,
here
.)
Adrienne Jouver of
PGH Walks
says the group wants to raise awareness of pedestrian issues and pedestrian rights. PGH Walks has given the City Accelerator project five stars, and Jouver says the plan is fantastic.
"Just how the city is built, it is so hilly, the steps are really necessary, and I think that is an awesome project to address that issue," says Jouver.
Pittsburgh City Accelerator project has garnered the most positive comments of any finalist so far, and Pazuchanics says the decision on who moves on should be made sometime this week. If you want to weigh in on the city's steps project, click
here
.
And if you want to take part in PGH Walks, the group is holding a winter walk tomorrow, Sat., Feb. 27. The group will meet at Caffe d'Amore, in Lawrenceville, at 10 a.m. Jouver says people are welcome to join the walk along the way, which will proceed down Butler Street, stop at the Kickback Pinball Cafe and finally end at Espresso a Mano.
Editor's note: a previous version of this blog attributed information from city officials to spokesperson Tim McNulty. The post has been updated to attribute that information to Alex Pazuchanics, a policy advisor for the city.