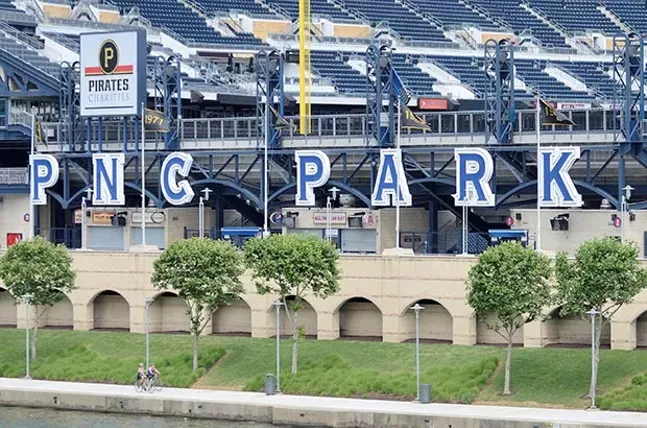 Pittsburgh has the smallest percentage of foreign-born residents of large metro areas in the U.S., so when immigrants and refugees arrive here, it can be an isolating experience. Sloane Davidson knew this. So, in March, she started a
mentorship program
linking foreign-born residents with native Pittsburghers as a way to combat xenophobia and improve the lives of the area's refugees and immigrants.
So far the program, called
Hello Neighbor
, is off to a fast start with 25 refugee families paired with 25 native Pittsburgh families. Davidson says the families have spent more than 450 cumulative hours together since June, including 120 interactions. "It's pretty remarkable," says Davidson. The families have held an event at a park in Brookline and even went to visit The Andy Warhol Museum together.
And now the Pittsburgh Pirates are getting in on the action. On Aug. 1, the Pirates are hosting a Hello Neighbor night as a way to raise awareness for supporting immigrants and refugees. Discounted tickets are offered, and before the game, there will be a hang-out at Picnic Park, which is beyond the bleachers in centerfield.
The hang-out is open to the public, and Davidson encourages people to attend so they can meet and interact with their international neighbors. Davidson says the families (totaling 183 individuals) hail from six different countries, including Iraq, Syria, Burma and Somalia.
"These events are a great way to bring new people and like-minded people to the park," says Davidson. She adds that even though a few in Pittsburgh have not always been the most welcoming to international residents, the Hello Neighbor program has been acceptable by all.
"I know there are lot of different opinions about how open Pittsburgh can be," says Davidson. "But we have felt nothing but warmth and acceptance."
To purchase discounted tickets for the Hello Neighbor night at PNC Park, visit the
Pirates website
and enter the code NEIGHBOR. Discounted tickets in the infield grandstand are $20, and include a Pirates cap. Davidson adds that there is also a
public potluck
in Riverview Park on Sat., July 8, that will have music, entertainment for kids, and relay races marshaled by a Pittsburgh Pirate Pierogi mascot.