Editor's note: As 2019 comes to an end, I've asked
Pittsburgh City Paper'
s editorial staff to select their five favorite stories from this year. Relive editorial designer Abbie Adams' 2019 highlights below. — Lisa Cunningham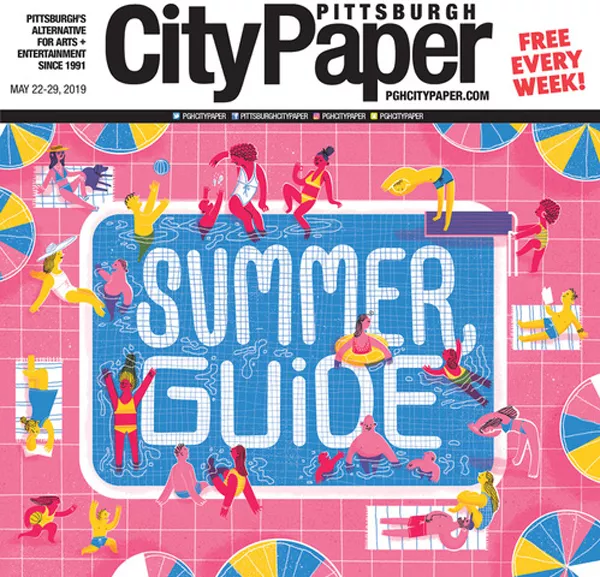 Summer Guide // May 22, 2019

One of my favorite parts of my job is working with local artists and seeing the process from conception to the final artwork printed and on the street. I sent local illustrator Sophia Marie Pappas an initial sketch (designers use stick figures too!) of an overhead pool scene. Sophia's delightful characters and vibrant colors really made this cover stand out and I spent quite a bit of time studying every last detail.
Pride Issue // June 5, 2019

Another one of my favorite things about creating covers are all of the collaborations that go into making them. For the Pride Issue, staff photographer Jared Wickerham shot the very cool Brittney Chantele wearing a shirt that Etna Print Circus had designed and printed just for us. Lisa and I pulled it all together in a very clean and open design.
Animal Issue // Oct. 16, 2019

For our Animal Issue, Lisa wanted to ask Milo Berezin, a local artist who does everything from printmaking to ceramics, to create a cover using little ceramic critters. Milo sculpted, glazed, and fired not one but seven alligators (in honor of the seven gators found in Pittsburgh in 2019) in less than a week and photographed them together for the cover shot. I love how one's first impression might be that they are illustrated, but upon closer inspection they are actually 3-D. I would rather stumble upon one of these out and about than the real deal too.
Wiener World // May 29, 2019

Intern Jared Murphy and I headed over to Wiener World just before lunch break the week of Ryan Deto's story on the drama behind why the iconic sign had disappeared. After a test run on a napkin using mustard — not ketchup, for higher contrast and visibility — I lettered "We *heart* PGH" on a hot dog for the cover photo.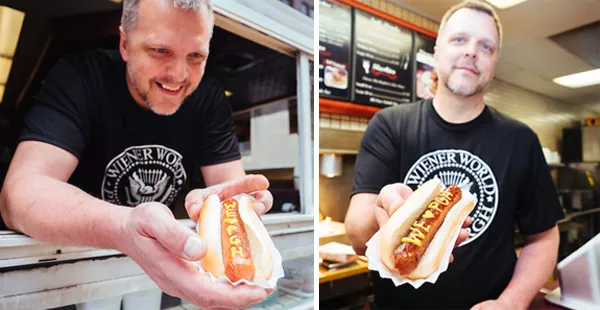 We took several shots for good measure with horizontal and vertical lettering — I just turned the hot dog over and used the underside for the second shot. After seeing the squeezed-out lettering, the owner said he would hire me if my job didn't work out.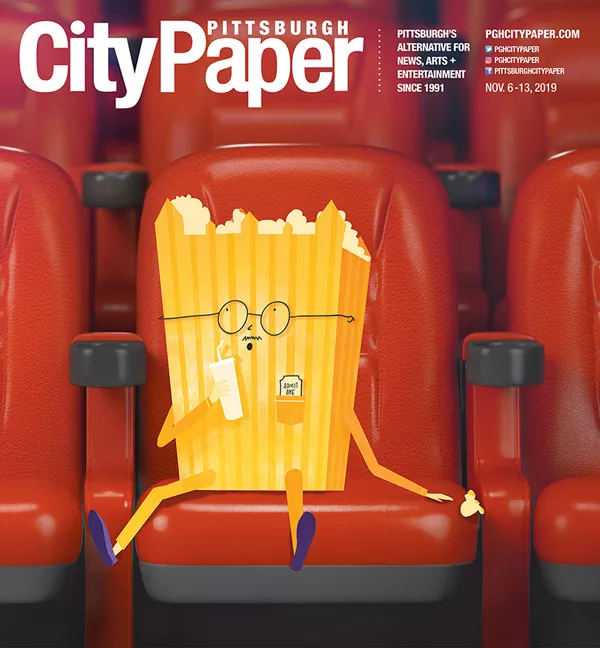 Three Rivers Film Festival // Nov. 6, 2019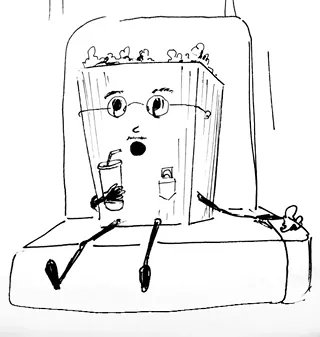 After mulling over what the cover should be for the 37th Three Rivers Film Festival for a few days, this little popcorn character popped into my head. After I sketched it out, Lisa suggested adding the iconic points from the PPG Place building to make him more local. A little color brought him to life and I imagine a lone, greasy butter tear sliding down his flat cheek as he watches his favorite film.