Editor's note: As 2019 comes to an end, I've asked
Pittsburgh City Paper'
s editorial staff to select their five favorite stories from this year. Relive managing editor Alex Gordon's 2019 highlights below. — Lisa Cunningham
---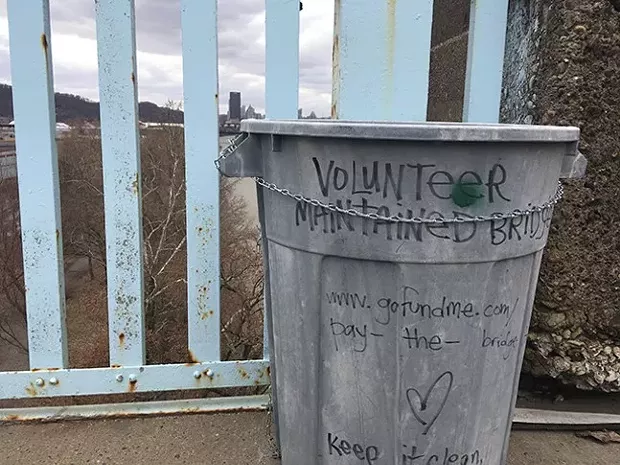 Bike courier cleans 40th Street Bridge // Feb. 27, 2019

Nothing against publicists or press releases, but it's always nice to find a neighborhood story organically. In this case, it was the story I stumbled on of Dani Kramer, a bike courier who took it upon herself to independently maintain the snow and trash on the sidewalks of the 40th Street Bridge. At the time when I started reporting on it, the bridge constituted a no-man's-land jurisdictionally speaking: PennDOT, Millvale DPW, and the city of Pittsburgh all rejected responsibility for maintaining snow and trash removal on the bridge's pedestrian walkways. But there was a happy ending: After years of advocating, the city finally took responsibility and Pittsburgh DPW has been handling it since.
Serving burgers with peanut butter // Feb. 27, 2019

File this one under passion project: I love peanut butter on cheeseburgers and wrote a short history of the dish. I learned a lot but was also pretty satisfied that the answer as to why the unconventional combination worked was basically, "because it does."
Pittsburgh Queer History Project // June 5, 2019

I'm always interested in stories about the intersection of digital and tactile media, and the Pittsburgh Queer History Project is a beautiful example of how to thoughtfully combine the two. The curator, Harrison Apple, enlightened me (and hopefully some of our readers) about lesser-known aspects of queer life in Pittsburgh over the past four decades. I won't forget our talk anytime soon.
Exhibit commemorates Miles Saal's art // Oct. 9, 2019

Writing this story about the suicide of Miles Saal, aka Pittsburgh artist Yung Mulatto, involved talking to his parents and friends about intimate and painful memories, and I struggled to balance the desire to know more about him and wanting to respect the privacy and grief of the people I talked to. But everyone shared really beautiful and vulnerable stories with me, and I finished the story feeling more hopeful than I'd expected. There's no silver lining with a story like this, but it's encouraging to hear stories from strong people working to turn pain into positive change.
Princess Jafar caps busy 2019 with two shows // Nov. 26, 2019

I've been a fan of Princess Jafar for a couple of years and was thrilled to finally speak with her for this article. Her public persona is fittingly acerbic and hilarious, but our talk was anything but. Generally speaking, questions like "what TV are you watching?" don't deliver the most memorable or relevant answers, but once Princess Jafar got going on Alf and Dick Cavett, it illuminated an unexpected connection to her work and comedy style that I think made it a pretty compelling interview.