What is a world without information? A person without a phone? A city without a newspaper?
Earlier this year,
Removed
, a photo series by North Carolina photographer Eric Pickersgill, reemerged online through viral posts, showcasing "life without cell phones." Before he took each portrait, the photo subject was asked to pose while holding a cell phone. Pickersgill then physically removed the device from their hands, leaving image after image of people staring into invisible objects: a couple in bed, kids on a couch, people at a dinner table.
For this week's
cover story
on the
Pittsburgh Post-Gazette
, which is facing a contentious labor battle and a shrinking newsroom, we took inspiration from
Removed
and created our own photo series showing glimpses of life in Pittsburgh without a newspaper.
CP
photographer Jared Wickerham asked our models to pose throughout the city as if reading a
Post-Gazette
, then photographed them reading an invisible medium. One model sat at a bench in Downtown Pittsburgh, another at home, a third, in a coffee shop. Riding across the Monongahela River on a Port Authority light-rail car, model Carolina Loyola-Garcia took it a step forward, flipping through invisible pages with her thumb as nearby passengers pretended not to notice.
Pickersgill first began his ongoing photo series back in 2015, but his images continue to provoke heated discussions online every time they reappear. In his artist's statement for the series, Pickersgill writes, "The joining of people to devices has been rapid and unalterable." He refers to cell phones as a "phantom limb" and his series alludes to an obsession with technology replacing human interaction. Some online comments have said the series shows how "silly" our addictions are; that we are wasting precious time; that we should be spending less time on our phones and "more time living."
But for me, what's most striking about both of these series isn't the addiction to the missing objects, but the overwhelming sadness of realizing they could be taken away from us. Earlier this year, the
Post-Gazette
reduced its print distribution to only three days a week, after cutting down to five in 2018. (Pittsburgh is now the largest U.S. city without a daily print newspaper.) As the contentious battle between management and staff continues at the
P-G
— the staff is in the midst of a byline strike, withholding their names from stories as a public stand against management — what will soon be left?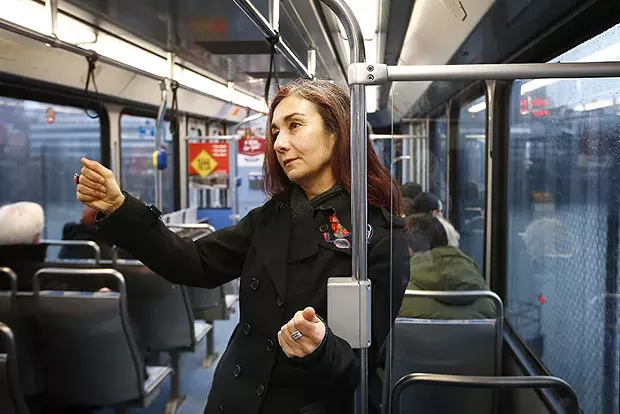 As a Generation Xer, I remember a time without modern technology, when I was unable to use a cell phone to access information on the spot, look up a meaning of a word, research a school project, write to my friends from across the country without having to wait for the USPS to deliver my letter ... or, to read a newspaper. The
Pittsburgh Post-Gazette
isn't just a print product. It's one we read in print, on laptops, on cell phones, at home, on public transportation, in coffee shops. The publication's incredibly talented Pulitzer Prize-winning staff keeps the city informed, keeps politicians in check, and deserves better than how they've been treated.
What does a city look like without a newspaper? This week, we tried to show it through photographs. But really, let's hope we never find out.