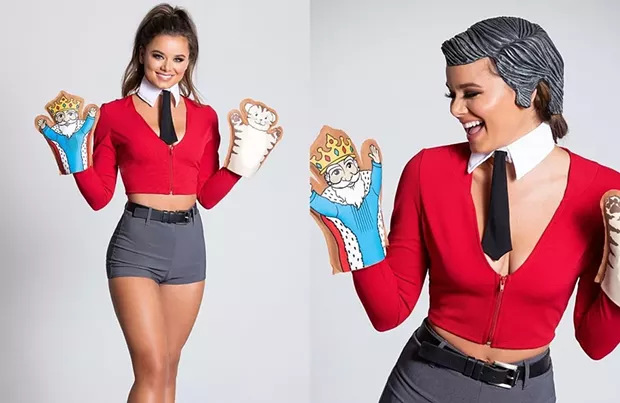 Fall is on its way. The leaves are turning, there's a chill in the air, and the lingerie and Halloween costume company Yandy has unveiled its latest line of dually offensive and confounding get-ups. If you've spent time on the internet around October, you probably heard of the company and their classic hits, including
sexy Handmaid's Tale
and sexy
DO NOT WEAR THIS EVER
.
Yesterday, Twitter — especially Pittsburgh Twitter — was, as they say, aflame when it was
reported
that Yandy sexified one of the city's most beloved figures –
Mr. Rogers.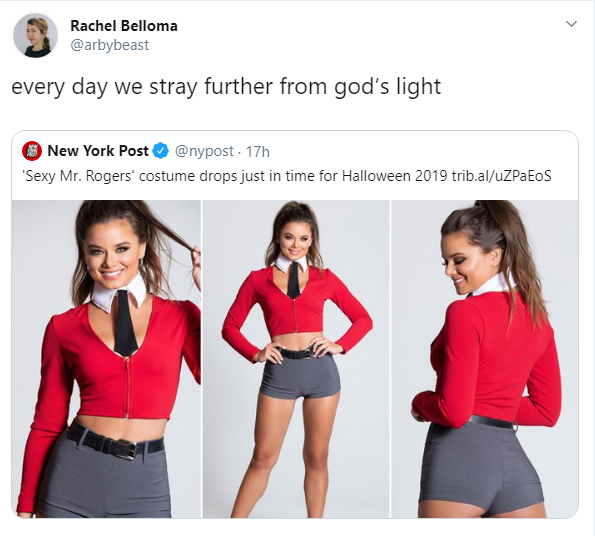 The "Nicest Neighbor" costume for women includes a white collar and tie, sans shirt, an ultra-cropped red cardigan, and grey booty shorts, all for the low, low price of *checks notes* $59.95? Instead of practical sneakers, the promo image suggests that the look would not be complete without white ruffle socks and pleather platform heels. As the website description states, you can also "entice your friends next door with your playful puppets" (sold separately), whatever that means.
As if that wasn't enough, this tribute to a man who dedicated his life to making sure all children felt loved and accepted only comes in sizes S-L. So much for liking people just the way they are.
If you want to dress as the late children's television icon/purest human being ever in a more accurate and far less expensive way, there's the unisex "Be My Neighbor" costume kit, which comes with a grey vinyl wig and two hand puppets of Neighborhood of Make-Believe denizens King Friday and Daniel Tiger (sadly, they are not sexy).
This isn't the first time Yandy took on PBS, lest we forget the company's attempt to make you hot for happy little trees with its
sexy Bob Ross costume
.
Even with all this awfulness, I'm surprised Yandy showed restraint in not using Mr. McFeely as a euphemism. Maybe next Halloween.