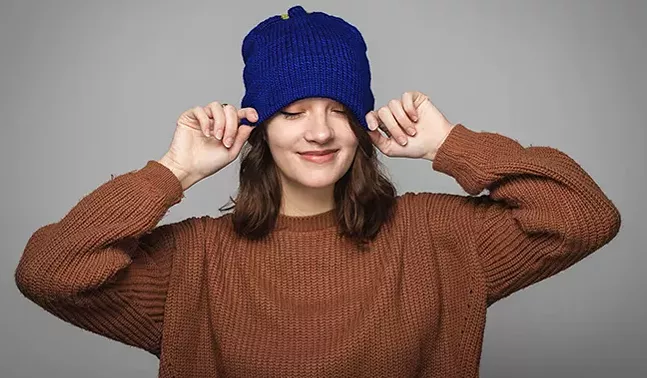 Xiola Jensen's
Instagram account
is full of sad girls. Sad girls with cats. Sad girls reading. Sad girls with birds. Sad girls surrounded by nature. Illustrations of sad girl after sad girl in beautiful pastel color palettes, accented with striking line art and patterns. They're dreamy and perfect and depressing all at once. "Is the artist OK?", you can't help but wonder.
Then, in the middle of the artwork, breaking up the illustrated teardrops, a photograph of Xiola smiling and dancing with friends, alive. A talented 22-year-old college senior, with a portfolio that would be impressive even for a seasoned professional.
Seriously, every teen magazine or website should be beating down her doors to have her illustrate their stories on heartbreak.
Xiola was our first choice to illustrate this week's Health Issue as soon as we decided on the theme of coping with seasonal affective disorder. What better artwork for an issue on sadness than one of her sad girls? On the cover, once-lovely flowers growing out of a woman's head have wilted and are dying. On the inside illustration, the same woman is cradling them, watering them with her tears, willing them back to life.
CP
caught up with the artist over email after she finished this week's illustrations.
What are you studying at Chatham?

I'm currently majoring in graphic design with a minor in marketing, graduating this May 2019! I initially went into college as a biology major though, so that's funny.
Has your initial interest in biology made its way into any of your artwork?

Well, I wanted to double major in biology and graphic design in order to become a medical illustrator! But, one day it hit me that I wasn't as interested in the scientific side, so I decided to focus on graphic design completely. However, my subject matter is usually very organic. Instead of studying life in a scientific way, I'm exploring it within my illustrations. I draw a lot of people, animals, plants, flowers ... I'm actually only one class short for a botany minor, but it doesn't line up in my schedule. So the fascination with nature is there.
Dream job when you graduate?

I'd love to find a job as a graphic designer with a focus on illustration. Recently, I've enjoyed working with musicians to design album art, apparel, stickers, tour posters, flyers, and the like. I also have interest in editorial illustration and publication design. Being able to work in any of those areas would be amazing.
So much of your artwork features sad girls. Are they self portraits?

Sometimes. Other times, it's unintentional! I use self-portraiture as a way to explore who I am, process internal conflicts, and show appreciation for myself as I transform over time. Even when I draw other women, I subconsciously give them features that reflect my own. I think this is because I am most familiar with myself and I tend to see myself in all women.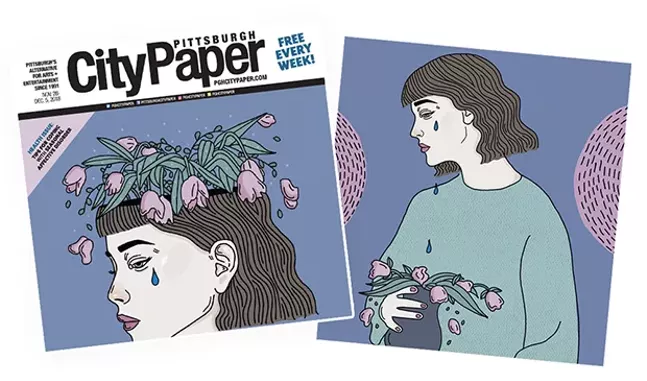 What inspires you?

I am most inspired by creatives with strong energy and passion. I have an affinity for music, so a lot of my drawings are inspired by song lyrics that really hit home. I've even started a series that involves illustrating some of my favorite women in the music industry because their music means so much to me.
Fun fact: We reviewed the new EP of Sad Girls Aquatics Club in this week's issue, and I saw you were the cover artist. How'd you hook up with the band?
Aaaah yay!!!! I met Marie Mashyna through a mutual friend last year and she contacted me over the summer to see if I was interested in helping with some album art. Definitely one of my favorite projects I've worked on, they're incredible!
What's your favorite music to listen to while you're sad?

Molly Burch, Mitski, Frankie Cosmos, Sufjan Stevens, Angel Olsen, Half Waif, Weyes Blood, Beach Bunny, Feist, SZA, Kelela, Björk, Sad Girls Aquatics Club (hehe)
What's your favorite music to listen to while you're happy?

Ariana Grande, Solange, ABRA, Britney Spears, Regina Spektor, Willow Smith, PHOX, Deep Sea Diver, Y La Bamba, Rubblebucket, Mean Lady, Chic Gamine, Paramore, Empress Of
We talked to an art therapist for this week's Health Issue. Do you find artwork therapeutic?

I think both observing and creating artwork can be very therapeutic. I keep a visual journal that helps me process my emotions. When I'm in a bad mood, drawing can either take my mind off it or allow me to address what's bothering me in a healthy way. Usually both, but it's unique to everyone. Art soothes the soul, and that's just a fact.
What cheers you up?

My amazing friends and family! They are the light of my life. Also: cats, upbeat music, dancing,
Noodlehead
, the general concept of love, showers, candles, soft blankets, any delicious food, and engaging novels, movies, and shows.
You drew Jeff Goldblum for a CP article earlier this year, and he liked your Instagram post of the artwork! Career highlight?
Yeah my resume just says "Jeff Goldblum liked my pic one time," and that's it. So I'm pretty much guaranteed a job … right?
Who's your dream celebrity client?

I'd be happy working with any of the music artists I listed above, but I have a particular obsession with Mitski and Frankie Cosmos so it would be amazing to work with them directly some day.
Where can people buy prints of your work?

I'm looking into making and shipping my own art prints this upcoming spring! Until then, I have a
redbubble
shop.