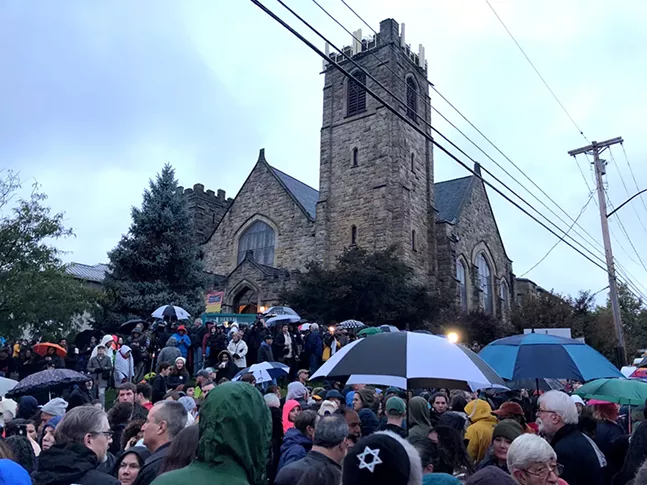 Crowds gathered in Pittsburgh's Squirrel Hill neighborhood tonight for a vigil following this morning's tragedy where
11 people were killed
and six were injured in what is being categorized by the
Anti-Defamation League
as "likely the deadliest attack on the Jewish community in the history of the United States."
Tonight's event was organized by the students of Taylor Allderdice High School and Dor Hadash, one of the congregations that meets for prayer at Squirrel Hill's Tree of Life synagogue, where the shooting occurred.
People arrived as the cold rain drizzled down on the community. Many in attendance recognized each other and met in embrace. The crowd continued to grow past 6:20 p.m. and police shut down the intersection of Forbes and Murray avenues to support the increasing numbers of participants. Several hundred people eventually filled the Squirrel Hill streets.
People lined up the hillside and filled the church and the streets. Some people hymned, "Ya a se shalom," filling the chilled air with hope.
Organizers officially began the vigil with the healing prayer and asked the group to sing along.
One student from Allderdice opened the vigil with an introduction and demanded change from the senseless alleged hate crime. A second student began, "No one thought this would happen to us ... We are one huge Jewish community."
"I am a different Jew today than I was yesterday. Yesterday being Jewish was just being a part of the Jewish community," said a third student. "Hearing about anti-Semitic [events] was something you heard about other places. But this is Squirrel Hill, and that didn't affect us here."
A fourth student took the stage: "This is not something that you can just forget. We need to make a change and it has to happen now."
A moment of silence proceeded the students' statements.
The leaders of the Jewish community wanted to wait until tomorrow out of respect for the victims, but the students said they needed to do this tonight, so that "we have a place to go and you all have a place to go." The students planned tonight's vigil tonight earlier today at the Starbucks up the street.
Emotions were heavy during the vigil. Faces were somber. But, the event exuded unity, as attendees were represented by people of all of faiths.
______________________________________________________________________
Tomorrow, Sun., Oct. 28, the
Jewish Federation of Greater Pittsburgh
is holding an interfaith gathering and vigil at Soldiers and Sailors Memorial Hall at 4141 Fifth Avenue in Oakland. Doors open at 3 p.m. and parking under the memorial will be free.
A
Community Gathering of Song and Prayer
, organized by
If Not Now Pittsburgh
, is also scheduled for tomorrow at 4:30 p.m.
We'll update you on more events as they are announced.