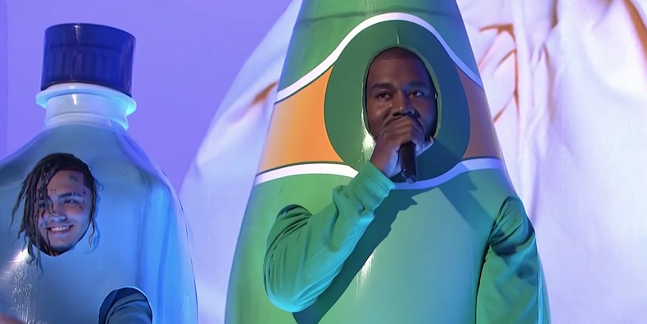 Every Monday,
CP
staff writer Jordan Snowden wraps up the weekend in local and national music news with #MusicMonday. Here's what she has this week:
Local
Ed Sheeran played at PNC Park and took the stage wearing a black t-shirt with a drawing of Mac Miller.
Meanwhile, Maroon 5 and an under-the-weather Adam Levine put on a winning show at PPG Paints Arena.
It was quite a weekend for mainstream music in Pittsburgh.
National / International
While performing at the Australian Football League grand final's pre-game show, Will.i.am pulled an ultimate on-stage no-no: he checked his phone.
But it turns out, the former Black Eyed Peas member was live-streaming on Instagram, and he took to Twitter to defend himself.
It was also a big weekend for highly anticipated new album releases. It was hard to keep up with. For starters, Weezy is back. Friday, Lil Wayne released
Tha Carter V
, his first album since
Tha Carter IV
in 2011. The long-awaited album features collabs with Travis Scott, Snoop Dogg, Nicki Minaj, and more.
So far,
Tha Carter V
's fan-favorite is "Mona Lisa," featuring Kendrick Lamar.
And there's already a new viral dance, the #UproarChallenge:
On Thursday, Logic dropped his fourth studio album,
YSIV
, which stands for Young Sinatra 4. This is the final installment in the YS series, and the title track packs a punch. In "YSIV," the Maryland rapper pays tribute to Mac Miller, crediting the late rapper as the inspiration behind Young Sinatra.
And somehow, he got the entire Wu-Tang Clan on the album.
But this is just scratching the surface of newly released tunes.
Meanwhile, Kayne West broke the internet, again. First, he changed his name. Then, put on a very … interesting performance on
SNL
. And the internet, as it does, is going nuts with memes.
The weirdness continued during YE's final song, in which he wore a Make America Great Again hat and advocated abolishing the 13th Amendment to the Constitution. Then he tweeted about it. All of this happened the weekend that YE's album,
Yandhi
was supposed to be released, but wasn't. A distraction tactic perhaps?
That's it for now. Check in next week for another #MusicMonday wrap-up.