I have been a fan of Fall Out Boy since I was old enough to discern music I actually liked from, well, music I would personally like to not listen to ever again. That being said, as I sat down in my seat at PPG Paints Arena for the band's Mania tour, I was a bit uncertain how enjoyable the show would be. For some background, Mania was far from one of Fall Out Boy's strongest albums. A combination of releasing far too many of the tracks as singles — it barely felt like a new album by the time it eventually came out. Plus, the release date was pushed back a few too many times and, the tour dates were posted so long ago that most fans had almost completely forgotten. It all contributed to a general sense of subpar-ness surrounding Mania itself. I was fearful the concert was going to reflect this sentiment.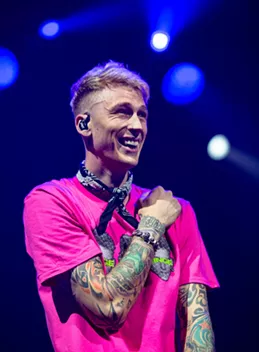 When you imagine opening acts for a household name in pop punk/alternative rock, who do you think of? Do you see Misterwives opening for Panic! At The Disco's 2017 Death of a Bachelor tour? Or maybe Jon Bellion and Judah & the Lion setting the scene for Twenty One Pilots' Emotional Roadshow last year? No matter who came to mind, I imagine you probably were not thinking of American metalcore band Every Time I Die, followed by rapper Machine Gun Kelly.

I have nothing against either of these artists (well other than MGK saying mid-set that he was "Glad to be back in the Midwest!" Like, Pittsburgh? Midwest? Seriously?). But their individual styles did not mesh well with the musical preferences of a crowd drawn primarily by Fall Out Boy. It was a bit painful to watch the lack of enthusiasm the audience of mostly younger alternative fans had for the openers.
Once Fall Out Boy took the stage, the environment picked up. Seats that I initially thought were going to remain empty throughout the show filled in bit by bit. The sleepy girl a row behind me said an audible prayer thanking God for finally bringing an end to Machine Gun Kelly's set. There was finally a sense of mild excitement.
The show itself was long, but thoroughly enjoyable. I was pleasantly surprised that the focus, despite the tour being called Mania, was not really on the new album's music. They played the expected classics like "Sugar, We're Goin Down" as well as slightly less expected classics like "This Ain't a Scene, It's an Arms Race." It would be faster to list the songs they didn't play from their last three albums than to name every track they did. They played such a healthy variety of old and new, I would be thoroughly surprised if there was a fan in attendance that did not get to hear what they wanted.
As a huge
fan of Disney's
Big Hero 6
, my favorite part of the entire evening was
the montage of scenes from the movie played as visuals for "
Immortals"
(also my favorite Fall Out Boy song). The rest of the night's visuals were a
completely unpredictable mix. From falling curtains of emojis, to a walkway of
fire sprinklers, to an entire track where the backdrop was just a game of
Fortnite, it felt like someone just sat by a random generator that would spit
out the name of a miscellaneous piece of media every few minutes. Was the look
of the show good for a cohesive aesthetic? Absolutely not. But it was good as
an embodiment of the "
I Don't Care"
mentality Fall Out Boy has lived by
all these years.


Overall,
the night felt less like a celebration of Mania and more of a healthy
sampling of the likable variety Fall Out Boy fans have come to know and love.
It was not the most spectacular show of the year, but it was a good time for all
Fall Out Boy fans, new to veterans alike.


Check
out more of our photo highlights from the show below.