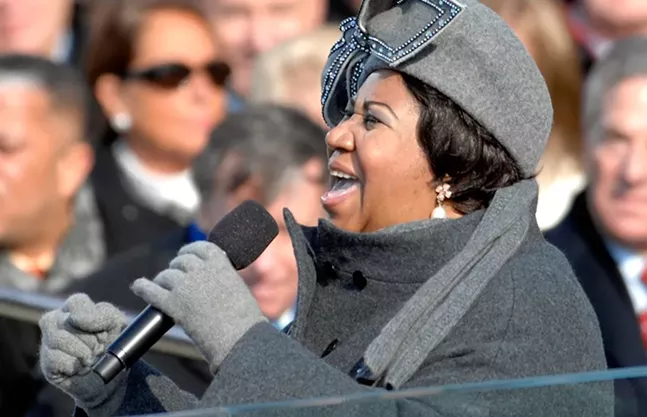 Aretha Franklin —
the Queen of Soul, who died Thursday morning
— paved a musical pathway for contemporary artists.
Looking at Franklin's expansive career, her roots in gospel music are evident; she masterfully fuses her spiritual foundation with blues, R&B, and Rock 'n' roll.
Franklin opened doors for strong, powerful female singers, especially when she hit her 100th charted song in 2014 (becoming the most charted female in history). In 2008, Franklin won her 18th Grammy and
sang at President Obama's inauguration
. She was the first female to be
inducted into the Rock & Roll Hall of Fame
, and held close ties with Martin Luther King, Jr. In 2005, Franklin was awarded the Presidential Medal of Freedom.
Franklin was a musical force, an icon for feminism, and a symbol of black empowerment.
As we mourn her passing, we've taken a look at how Franklin influenced today's singers. Below, we've listed three of today's most popular artists, and how we think they've taken cues from Franklin.
Beyoncé
Beyoncé approaches life's ruthlessness with an air of lightness.
Formation
, a song released in 2016, pairs a catchy melody with politically-charged lyrics. Her rhythms are upbeat, similar to
Jump To It
by Franklin; Both women love unconventional beats. Franklin contrasted melodic resolution with lyric unrest flawlessly.
Jennifer Hudson
One of Hudson's best known performances is
And I Am Telling You I'm Not Going
, an emotionally laden piece that requires a tremendous vocal range. Hudson's voice, a powerhouse of strength and tone, mimics Franklin's ability to sustain sound. Hudson has the same raw energy and rasp that Franklin brought to songs such as
Respect
and
Think
.
Alicia Keys
Keys takes cues from Franklin's commanding, storytelling inflections. Her vocal agility parallels Franklin's; both artists fluctuate between genres with ease. Keys mirrors Franklin's method of building the melody, yet holding back right at the climax, keeping dramatic tension. Songs like
(You Make Me Feel Like) A Natural Woman
and
If I Ain't Got You
spotlight this.