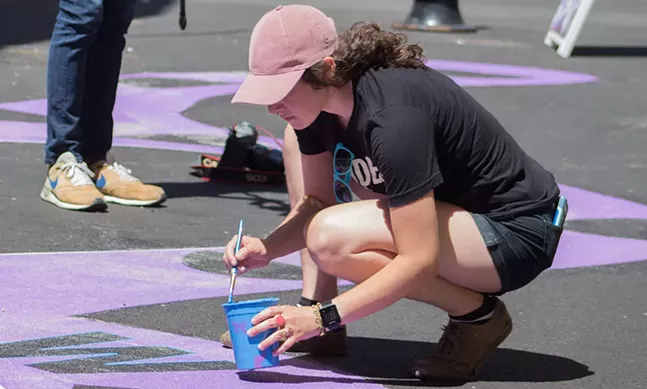 Strawberry Way, a Downtown alley that stretches from Liberty Avenue to Grant Street, was selected the
"Best Street Transformation, People's Choice"
last year by national transit and urban planning news site Streetsblog USA.
Part of that was due to a street mural painted underfoot in 2016 by
Deanna Mance
. Her abstract and colorful mural was a backdrop for many selfies over the past few years, but the artwork — recently faded — was always meant to be temporary.
Pittsburgh artist
Julie Mallis
, creative director at
BOOM Concepts
and program manager for
Bike PGH
, began work this week on a new mural in the same location.
Fruit will stretch across the mural in the negative space. Mallis intentionally chose fruit local to Pittsburgh, introduced across the alleyway in the order they come into season: strawberries, cherries, peaches, watermelon, grapes, apples and pears.
Jump from fruit to fruit and count how many fruit you get without touching the purple paint as you play the game.
Mallis also wants the mural to be an educational experience. Questions are included throughout the mural to make people think beyond what's on the surface.
"Who gets to eat the most fruit?" has double meaning. Mallis says that's how you win the game, but it's also a question of power and resources. Mallis wants you to ask: "Who are the people who get us our fruit and what is happening to those people? Who are the people who get to eat the most fruit?"
Check out our video below as we visited Mallis at work on the mural on Thursday.