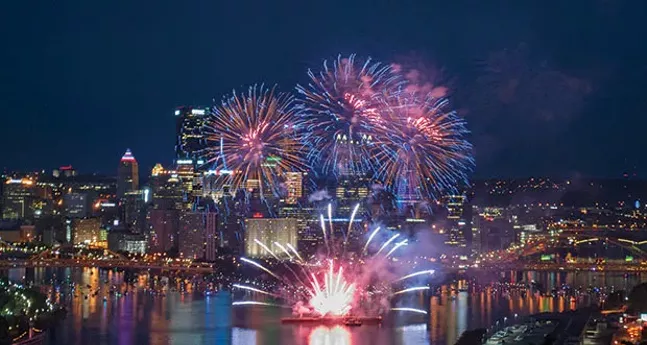 Most Americans spend their July Fourth celebrations in one location. Whether for DUI avoidance or commitment to tradition, we generally pick a party, load up on necessary supplies, post up and call it a day. (This generalization was arrived at unscientifically and is possibly false).
This year, why not switch things up and take a tour of all Pittsburgh has to offer on Independence Day, with an all-day(ish) marathon of patriotic partying? City Paper nailed down the schedule for you, and it involves exercise, Bill Pullman and flags. Enjoy! Don't drink and drive.
7:30 a.m. Start the day right with the 34th Annual Whiskey Rebellion 5k, kicking off at Canon-McMillan Memorial Stadium in Canonsburg. Make sure to hydrate and load up on patriotic high-caloric food beforehand, like American flag waffles or breakfast hot dogs.
9 a.m. If 5k No. 1 failed to tire you out, keep the cardio coming with its sequel, the 35th annual Brentwood Firecracker 5k starting at Brownsville Road. Impressive!
10 a.m. Surely all that running has taken the wind from your sails. It's time to relax and cool off with one of the most American summer movies of all time: The Sandlot, at Waterworks Cinema. It has everything: marshmallows, Denis Leary, children chewing tobacco.
12-3:30 p.m. With your legs exercised and your funny bone tickled, it's time to put that curious brain to work. Start with a Flag Ceremony at Sen. John Heinz History Center, follow up with the colonial re-enactors at Fort Pitt, then check out the all-day Celebrate America at Point State Park. This is also good time for some lunch hot dogs.
4 p.m. Dance at New Amsterdam with a special July Fourth version of its free dance party, Penumbra, featuring Gvrgoyles and Emplate.
7:30 p.m. You were promised Bill Pullman and here he is. Check out Independence Day at AMC Waterfront for a timely re-visiting of the 1996 classic. Sadly, the movie is several hundred hours long, so in order to stay on schedule, you'll have to bounce before anything too exciting happens.
8:15 p.m. Join the Pittsburgh Philharmonic at Zelienople Community Park for a night of music from American composers. Come for the John Philip Sousa, stay for John Cage's "4'33" encore.
9:30 p.m. OK, you've spent all day racing around town. It's time to settle down and head back to Point State Park for some fireworks. Eat any leftover hot dogs and crack a beer. You did America proud today.