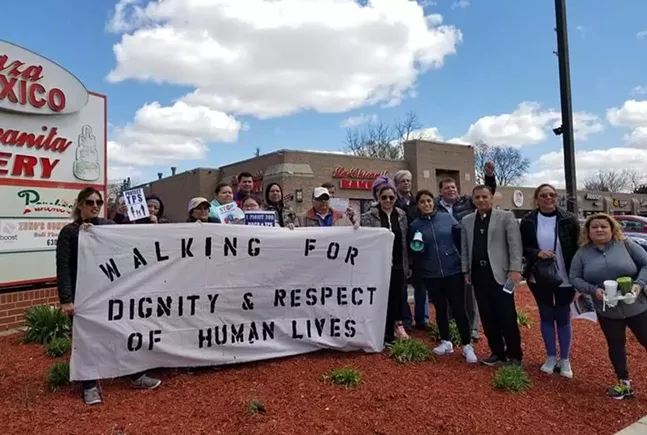 President Donald Trump has renewed his intense criticism of the U.S. immigration system and
immigrants in general
. He called undocumented immigrants that cross the U.S.-Mexico border "animals" during a recently televised conversation about immigration policies and the MS-13 gang.
His rhetoric isn't stopping immigration advocates from calling for protections, including a Chicago-based walking from Illinois to Washington, D.C.
On May 25, 31 advocates from Chicago's Faith Life and Hope Mission church passed through Pittsburgh on their march to Washington. Elizabeth DeAvila of Faith Life and Hope Mission says the group is on its 28th day of walking and spent time with fellow immigrant-rights advocates at Casa San Jose in Brookline.
This group, led by Father Jose Landaverde, is marching to gain support for policies such as stopping deportations, reigning in
immigration enforcement
and providing protections for recipients of federal programs — including Temporary Protected Status (TPS) and the Deferred Action for Childhood Arrivals (
DACA
).
"We support DACA," says DeAvila. "These parents brought these kids to U.S. to get away from violence and to avoid hunger in their home countries. We believe Christ would never close [the] doors to people who are hungry and need shelter."
DeAvila says the group supports an effort currently in the U.S. House to force a clean vote on DACA. Currently, 213 members of the U.S. House have signed a
discharge petition
which would force votes on a series of immigration bills, including one that would give DACA recipients a chance to stay permanently in the U.S. Five more signatures are needed to force a vote in the House.
Nine U.S. Reps. from Pennsylvania have signed the discharge petition, including Pittsburgh-area representatives
Conor Lamb
(D-Mount Lebanon) and
Mike Doyle
(D-Forest Hills). Three Republicans from moderate Pennsylvania congressional districts have also signed on, including Ryan Costello (R-Bucks). However,
Keith Rothfus
(R-Sewickley), who also sits in a moderate congressional district, has not signed the petition.
DeAvila says the group's time walking through Southwestern Pennsylvania has been a mixed bag. People in Pittsburgh have generally been welcoming, but DeAvila notes her group has been harassed in rural areas. This group is primarily composed of Latinos and is made up of two DACA recipients, three TPS holders and 26 U.S. citizens.
"We are walking these 800 miles with a lot of dignity and courage," says DeAvila.
The group will walk to Greensburg on Saturday.