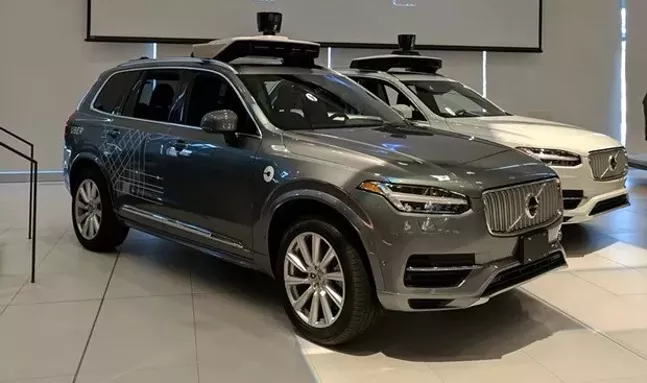 Pittsburgh Mayor Bill Peduto was an early champion of Uber moving to Pittsburgh, and then of Uber testing autonomous vehicles here. When Uber balked at working with city officials on a federal transit-grant application in 2016, things started to go downhill.
Peduto has voiced much more criticism of Uber in the years since, and Uber has faced a series of issues unrelated to their relationship with Pittsburgh.
The latest issue involves Pittsburgh, though.
Uber announced May 23 the termination of its autonomous-vehicle testing in Arizona. An Uber driverless-car collided fatally with a pedestrian in Tempe in March, and Gov. Doug Ducey suspended autonomous-vehicle testing in that state. Since, Uber has
suspended
all autonomous testing.
The suspension includes Pittsburgh, but Uber stated in a news release that it's eyeing a return to Pittsburgh streets.
The news release reads: "We're committed to self-driving technology, and we look forward to returning to public roads in the near future."
But Peduto isn't quite ready to welcome with open arms Uber's autonomous-vehicle testing back to Pittsburgh.
"I made it clear to Uber officials after the Arizona crash that a full federal investigation had to be completed, with strong rules for keeping streets safe, before I would agree with the company to begin testing on Pittsburgh streets again," Peduto says in a statement.
Pennsylvania's Department of Transportation regulates Uber's
autonomous-vehicle
testing program in Pittsburgh. In April, PennDOT wrote a series of new guidelines that task Uber with sharing more detailed information on its autonomous vehicles, in addition to testers that sit in the cars. These guidelines are voluntary until the state legislature passes laws providing PennDOT authority to enforce them as rules.
Peduto says in his statement that Uber and the city have been working on new terms and conditions, including the prohibiting of autonomous vehicles exceeding 25 mph and allowing the company to notify drivers when they are violating speed limits. Peduto spokesperson Tim McNulty says the city can't enforce these conditions, since PennDOT regulates testing, but says that Uber reached out and was in "ongoing talks" with city officials before the announcement.
Peduto also says in his statement the "probability of pedestrians surviving a collision is much higher at speeds of under 25 mph. Even at 30 mph fatality rates increase dramatically.
Eric Meyhofer, the head of Uber's autonomous vehicle operations, told
TribLive
that Uber's return to roads will include additional safety measures, but didn't offer specifics.
"When we get back on the road, we intend to drive in a much more limited way to test specific use cases in concert with our software and hardware development teams," Meyhofer says. "Taking this approach will allow us to continually hone the safety aspects of our software and operating procedures.
Peduto, though, indicates he wasn't pleased with being out of the loop with Uber's plans to return to Pittsburgh streets.
"Uber did not tell me of [Wednesday's] announcement, and I was forced to learn about it through social-media reports," says Peduto. "This is not the way to rebuild a constructive working relationship with local government, especially when facing a public safety matter."