Not all superheroes wear capes ... some
draw
them. Lawrenceville artist
Marcel Walker
, who illustrated Pa. Gov. Tom Wolf as Batman for this week's
Pittsburgh City Paper
cover, is no stranger to comics.
Walker is the project coordinator for
CHUTZ-POW! SUPERHEROES OF THE HOLOCAUST,
the Holocaust Center of Pittsburgh's comics series about ordinary heroes who survived during Nazi Germany. He's also the new board president of
The ToonSeum
, Pittsburgh's longtime cartoon-art museum which closed its storefront in Downtown in March, switching to a roaming-museum model.
We've previously covered his personal work on his ongoing comic-book series
Hero Corp., International
, and he was the winner of our 2017 Best of Pittsburgh readers' poll for "
Best Local Cartoonist
."
CP
talked to Walker over email after he finished this week's cover illustration, right off the plane from receiving yet another heroic award for his work. Keep reading to find out more!
Have you come off the high from winning our readers' choice for "Best Local Cartoonist" yet?
I'm still pretty blown away that so many people think so highly of my work. That said, I recognize that you can't rest on your laurels, so I've still got a lot of work yet to do!
What's your favorite thing about being an artist in Pittsburgh?

I love that I'm part of such a vibrant arts community, both in the micro-sense — our local comic-creating community is amazing! — and macro-sense. The three rivers are overflowing with artistic talents that stretch across disciplines. It's motivating to share a boat with such game-changing creators.
A lot of your artwork revolves around superheroes. Is that your favorite subject to illustrate?

My favorite subjects are those that are most authentic. They can be real or fictional. The lens I see the world through is comic books, so I tend to see the superheroic in most people I encounter. There are a lot of people walking around the Steel City, working for the people, who would probably be more appropriately attired if they wore capes! (Like my friends at
The Greater Pittsburgh Community Food Bank
... KALE YEAH!)
This week's cover features our take on Batman and Robin. Which Pittsburgh artist would you choose to be your sidekick?
Most people would say the local writer Wayne Wise and I are already an inseparable creative duo. Together, he and I have been working as lead writer and lead artist, respectively, on the
CHUTZ-POW!
comic book
.
We've known each other for years, and since we have so much creative stuff going on at any given time, we're like each other's sidekick and biggest fan. We have more of a Blue Beetle/Booster Gold dynamic, though. (The comics fans will understand that reference!)
What's your kryptonite? (Yes, I know I'm switching comics!)

Orange juice. Twizzlers. (Orange juice
with
Twizzlers is my thing!) Skittles. (I own a Superman gum- dispenser, which I keep perpetually stocked with Skittles. True story.)
Would you rather have the ability to fly or walk through walls?

Flight! Not a single day goes by that I don't wish I could go wherever I need to and somehow avoid Pittsburgh traffic. Also, I was on a plane this weekend and revisited the realization of why Superman's Fortress of Solitude is at the North Pole. It's because when you're flying above clouds, it looks exactly like you're above the arctic. So, whenever Superman is flying, it looks like he's home; and when he's home, it probably feels like flying. (Superman is my favorite; I tend to think about him a lot!)
Your artwork is fun and playful, but you also don't shy away from covering serious subjects. How did you get involved in CHUTZ-POW! SUPERHEROES OF THE HOLOCAUST?
Long story short: In late 2013, a committee had been formed at The Holocaust Center that wanted to reframe the narrative of Holocaust education. The intent was to focus more on the resilience of survivors and those who'd been persecuted rather than the means of their persecution; it's a project rooted in heroism rather than brutality. The committee reached out to The ToonSeum, and via that partnership, the decision was made to produce an actual comic book to tell the true stories of Holocaust survivors from our region. I knew about the project almost from its inception and, because I appreciated the intent behind it, would have made myself a part of it no matter what! But they did formally invite me to be a contributing artist, and my role progressed to that of lead artist. Now I'm the project manager for
CHUTZ-POW!
, so I have the main editorial duties.
<!————EndFragment————>
Have you found any topic too taboo for you to tackle?

Not yet. I don't have any desire to work on anything that's exploitive or shocking just for the sake of being shocking, though. I much prefer work that has some sense of purpose. Ideally, I prefer projects that align with my own sensibilities and sense of ethical balance. That's how you get the most out of anyone.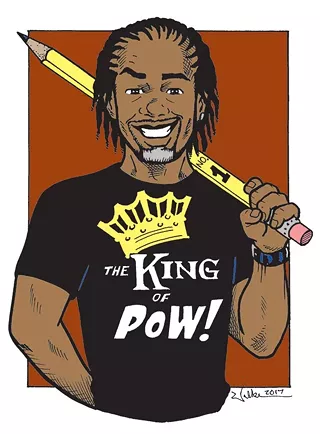 Earlier this year, you were named the new board president for The ToonSeum. How important is it to have organizations like The ToonSeum in a city like ours?

It's all-important. Pittsburgh is defined by its
cultural fixtures because they directly reflect our values and sensibilities.
The arts have revitalized our neighborhoods and are one of Pittsburgh's
leading industries, alongside medicine, technology and sports. The ToonSeum is
emblematic of the uniqueness of arts in Pittsburgh and, in my opinion, is as
important as the Carnegie Museum of Art. We already have a connection to the
popular arts via Andy Warhol; The ToonSeum allows us to focus our appreciation
on an under-appreciated art discipline and establish Pittsburgh as a Mecca for
comic creation.


Seriously, I want people to come to our events twirling Terrible Towels for the comic arts!
<!————EndFragment————>
Are there any pop-up events coming up you're really looking forward to?
Yes! Tonight [Mon., May 7], City of Asylum is hosting
Walks in Wakanda: The Black Panther in Comics and Culture
, a conversation with
Rise of the Black Panther
writer Evan Narcisse. He'll be joined by regional poet, professor and writer (
Black Panther: World of Wakanda
) Yona Harvey, who is a board member of The ToonSeum, a promotional partner for the event.
<!————EndFragment————>The ToonSeum will also host the pop-up art exhibit
CHUTZ-POW! SUPERHEROES OF THE HOLOCAUST VOL. 3
at the 3 Rivers Comicon on May 19-20 in West Mifflin. This will feature original artwork from our most recent installment of our series, and attendees will have the chance to meet several of the artists and writers involved with the stories.
<!————EndFragment————>
Elsewhere in this issue, we talk about last weekend's Free Comic Book Day. Is this a national holiday for comic artists?

Yes, it's held nationwide to encourage new and continued readership of comic books. It's a fun, enthusiastic way to expose readers to a variety of material they might not otherwise be inclined to check out. Who doesn't like free stuff? I do!<!————EndFragment————>
Have any favorite comics you're currently reading?

X-Men: Grand Design
by local comics auteur Ed Piskor is amazing in scope and accomplishment.
The Terrifics
is clever.
What can we expect from you next?

Wellllllll … this past weekend I became the recipient of a
BMe Genius Award from BMe Community
!
BMe is a national network of inspired black men,
and thousands of other community-builders of all races and genders,
that connect to share, inspire and empower communities across America. Launched
in Pittsburgh with the support and partnership of the Heinz Endowments, the
awards seek to shine a spotlight on oft-unsung Black men who take action to
help others and strengthen communities daily. It's an honor and blessing to now
belong to this incredible community of world-changing men!
And I always have other artistic projects percolating. I want to retain my title of Best Local cartoonist in Pittsburgh for another year, at least! ;^)