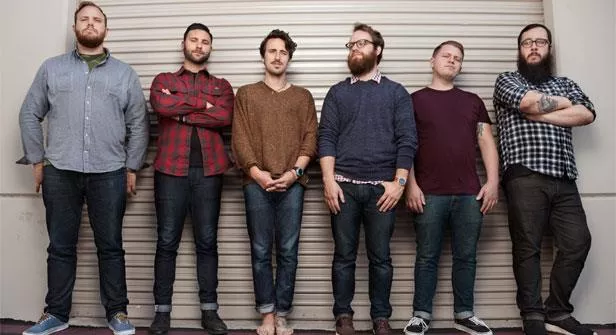 The Wonder Years is a fan's band. The Philly-by-Lancaster, alt-rock-by-pop-punk troupe has been overlooked and misunderstood by rock critics since the early 2010s, when its members were singing about the decline of the American dream, cultural anxiety and mental health struggles with what now appears to be sonic and lyrical prescience. It wasn't, though. The Wonder Years has always been a group that simply makes the music it wants to hear and plays it for whoever's interested in showing up.
As one of the most nuanced and musically capable pop-punk bands of all time, it's really easy to devise this narrative that The Wonder Years probably felt underemployed on Warped Tour or ill-fitted for the 2010's wave of male-centric, melodramatic pop punk that the band came up in. Even at its most straightforwardly New Found Glory-esque (their 2009 breakout The Upsides), the members of The Wonder Years were on a different plane than their tour buddies in The Story So Far, Four Year Strong and Man Overboard. To this day, frontman Dan Campbell has only written one salty song about an ex-girlfriend, and it's loaded with self-deprecation and tongue-in-cheek charm that many of The Wonder Years' most popular peers never quite achieved.
But Campbell emphasizes during his phone conversation with Pittsburgh City Paper that comparing his band to others is pointless and unproductive. He never felt like The Wonder Years was misplaced, and he genuinely doesn't care who he plays with, because to him, it's all about the audience. He treasures his fans and is thrilled to be performing for anyone who's excited about his music, regardless of whether the tour package makes sense according to arbitrary and, in his mind, constricting genre guidelines.
For the last few years, particularly on its sixth full-length Sister Cities (which dropped April 6 and peaked at #18 on the Billboard 200), The Wonder Years hasn't even been a pop punk band. Cities features post-rock swells, stormy synths and strings, and intricate arrangements that are as much a far cry from the early stuff as a stable and fitting development of the sound. As Campbell says during our chat, his fans have always been on board with the band's maturation, mostly because it's never stayed the same. To be a Wonder Years fan is to be a fan of the augmentation of music, not just of a singular sound, style or community of bands.
In a phone conversation before the band's sold out show at Mr. Smalls on May 4, Campbell talked about the band's staunch opposition to stasis, playing for as many different types of people as possible, and what he thinks is the best Wonder Years album to date.
So for many years you guys were playing Warped Tour and with its genre-adjacent bands. Did you ever feel out of place in that scene or was that where you all wanted to be?
I really don't think about it. We just kind of play the music that we write and to the people that are gracious enough to listen to it. Our goal is to play music to those who want to hear it and like it, and so we want to give ourselves the opportunity to play for all those people. So saying I do this thing and I only do this specific thing, it organizes you in someone's brain. And I think that we're more flexible and dynamic than that, and I don't want to wall us from someone who might like it.
You guys have always been a band whose progressed musically with each record, but was there any fear of isolating fans with the stuff you tried No Closer to Heaven and now Sister Cities?
I don't think so. I think that when we were making them, our fans kind of understood that we had been going that way for a while. At least that's how I felt about it. If you were a fan of the band you probably understood the direction we were going in for a good long time. And I think most of our fans were more than prepared for it [and] just excited about it. So we were happy to have the opportunity to do that. We've always felt supported by our fanbase and it gave us this sense of confidence to go ahead and try something different.
What did you guys know you wanted to do most going into the writing of Sister Cities?
I think challenge ourselves. I think we just wanted to make sure that every part was the best it could be and not just, "hey this is good, this part works." But, "is that the absolute best option for this particular piece of this song?" As we sit down to write it, we could go and play something and the first thing that comes out could be great and we could be like, "oh that's great, it's done now." Now we want to do ten things and see what works best. Let's not just do it and consider it done.
How has it felt to get a lot of the press attention during this cycle that you might not have gotten in previous ones?
It's exciting to talk to new people because it gives you the opportunity to take the things you worked so hard on to a bigger audience. We don't ever want to say to our audience, "Hey we're not interested in playing music for you anymore," we just want to [also] play to something different. These press outlets are giving us the opportunity to play to people we may not have reached prior to this.
It seems people have really taken to Sister Cities and are liking it, so does that give you the confidence to be able to try more "experimental" material down the line?
We've always felt supported by our fans. It really feels like people are fully embracing it. Even if everyone said, "We fucking hate this, go write me another Upsides," we probably wouldn't write another Upsides.