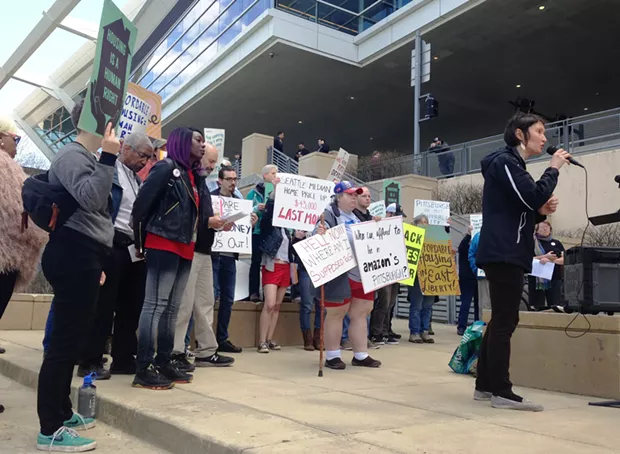 April 26 is the second day of the annual
p4 conference
at the David L. Lawrence convention center in Downtown Pittsburgh. The conference brings together regional and national leaders to discuss strategies on how to achieve equitable development in cities like Pittsburgh. Attendees at this year's conference include Julian Castro, a Housing and Urban Development secretary under President Barack Obama, and Nikki Fortunato Bas, the director of the nationwide economic-justice organization Partnership for Working Families.
But as leaders discussed and shared ideas on how best to build inclusive and equitable cities, about 30 housing and transit advocates gathered outside the conference earlier today to claim that some of the city's leaders, like Pittsburgh Mayor Bill Peduto are acting hypocritically. Laura Wiens, head of transit advocacy group Pittsburghers for Public Transit, said Peduto's failure to release Pittsburgh's bid for Amazon second headquarters, also called HQ2, flies in the face of the values held up by p4. She also called on Peduto to make Pittsburgh's bid to Amazon public.
"Amazon fails the p4 test," said Wiens. "People don't have the opportunity to weigh in, and they don't even know what tax incentives are being offered."
Wiens also said that if Amazon chooses Pittsburgh, it could lead to massive rent increases and bring an influx of wealthy developers to
speculate on properties
across the city. (Housing speculation is typically when people buy cheap properties and flip them for large profits when a neighborhood is redeveloped). Wiens noted that Seattle, home to Amazon, has seen exponential price increases over the years, and she worries that would happen in Pittsburgh.
"[Housing] speculation isn't something either the mayor or Amazon can control," said Wiens.
Housing advocate
Carl Redwood
also spoke at the protest. He said
Amazon arriving in Pittsburgh
would add to the city's already existing affordable-housing problems.
"Amazon is not for us," said Redwood. "Right now, people are being pushed out because they already can't afford the rents."
And while the crowd of protesters are worried about Amazon's impact on Pittsburgh, a recent poll shows that the majority of people in the region think Amazon moving to Pittsburgh would be a good thing. According to an April
poll
from North Carolina's Elon University, 83 percent of people in the Pittsburgh region strongly or somewhat support Amazon
moving to Pittsburgh.
Crystal Jennings, also of Pittsburghers for Public Transit, criticized the subsidies that could be offered to lure Amazon to the Steel City. According to the
Philadelphia Inquirer
, Pennsylvania officials are offering $1 billion in tax breaks to attract the tech giant to either Pittsburgh or Philadelphia.
Jennings said those subsidies could be used more efficiently and more equitably. "Why not give those tax breaks to scores of small, minority-owned businesses?" asked Jennings.