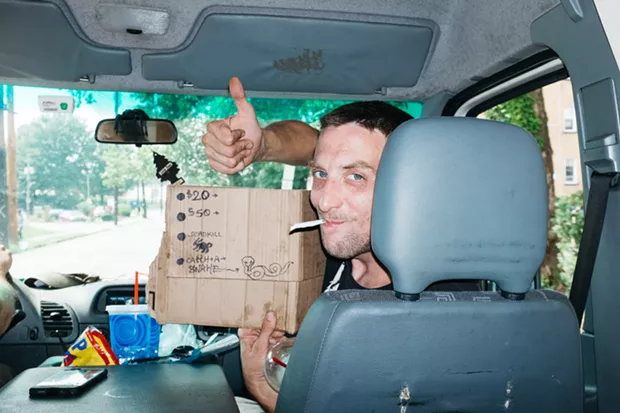 Mikey "Tha Pants" Felice, a stalwart in the Pittsburgh punk community, passed away at age 36 on April 15. Felice founded and ran Rally Ally, a music venue in Latrobe, Pa., with his best friend Chris Goodman. Rally Ally hosted bands like Caustic Christ, Every Time I Die, Crucial Unit and more. After Rally Ally closed, he continued to book shows around Pittsburgh, particularly at Belvedere's in Lawrenceville. He booked bands like Toxic Holocaust, Resistant Culture and The Vibrators among countless others, and he was known for his distinct flyers. He was a welcoming figure and taught many of Pittsburgh's punks about the music and culture that became their life.
To celebrate his legacy, friends and family will host an event on Thu., April 26 at Belvedere's with punk bands Cultivator, Submachine and Bitrot, followed by a punk-rock dance party DJed by John Villegas of Cruel Noise Records. The show costs "5 filthy american dollars" and all proceeds go to the Felice family to cover his funeral expenses. Donations to the Felice family can also be made through
GoFundMe.
The following is his official obituary:
Michael Joseph Felice, 36, of Pittsburgh, formerly of Greensburg, Legendary Promoter of the former Rally Ally Venue in Latrobe which brought new genres for live music to sold out crowds, died Sunday, April 15, 2018, surrounded by his siblings and parents, in the UPMC Presbyterian Hospital, Pittsburgh. He was born January 6, 1982, in McKeesport, a son of Carl and Sandra (Wingfield) Felice of Greensburg.

Michael, aka "Mikey the Pants" creator of SPY, STICH, and the FREE PIZZA PASS, was self employed as a faux painter and Bar and Restaurant Artist/Designer. He was a firm believer of the philosophy that any material thing he wanted could be found in a dumpster. Michael definitely loved friends, family and his dogs more than any material possession. People will remember him as a Professional Rail-Riding Story Teller who used his talents to creatively entertain and make life more magical for anyone in his presence. Michael will be missed by an unfathomable number of people whose lives he has touched during his short but action-packed life here on earth.

He was predeceased by his maternal grandfather John "BoomPa" Wingfield; and his paternal grandfather Joseph Felice.

In addition to his parents Michael is survived by his brother Gabe Felice, his sister Rachel Felice, both of Greensburg; his maternal grandmother Caroline "NaNa" Wingfield of Greensburg; his paternal grandmother Eileen Felice of Hunker; his nephew Oliver; a special friend Maggie; numerous aunts, uncles, and cousins; and his constant canine companion Cerebus.

Friends will be received 2 to 4 and 6 to 8pm Wednesday in the John V. Graziano Funeral Home Inc., 228 North 2nd St. Jeannette. A funeral service will take place Thursday at a time to be announced. In lieu of flowers memorial contributions may be made to the Wildlife Works, PO Box 113, Youngwood PA. 15697, or at wildlifeworksinc.org.
A longer memorial piece from the
CP
is forthcoming.
8 p.m. Thu., April 26. Belvedere's Ultra-Dive, 4016 Butler St., Lawrenceville. 5 filthy American dollars.
www.belvederes.com