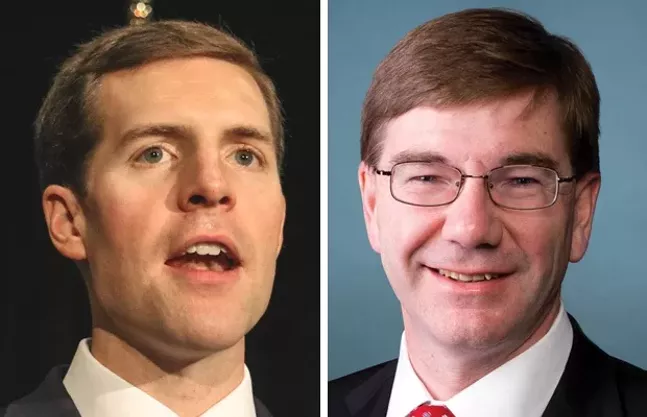 After U.S. Rep.
Conor Lamb
(D-Mount Lebanon) won a special election in March to fill a seat vacated by former Congressman
Tim Murphy
, it set up a battle of incumbents for the newly drawn Pennsylvania 17th U.S. Congressional District, which
encompasses
all of Beaver County and suburban sections of Allegheny County.
Lamb and U.S. Rep.
Keith Rothfus
(R-Sewickley) will square off in November. The candidates differ on many topics, including starkly different views on organized labor and the government's role in providing health care.
But in one area, they appear to be on the same page. On April 13, both Lamb and Rothfus voted to alter the Volcker Rule in the Dodd-Frank Wall Street Reform Act. This rule was established after the financial crisis of 2008, and prohibits banks from making risky investments with customers' money. The bill that cleared the U.S. House, the Volcker Rule Regulation Harmonization Act, would exempt banks with less than $10 billion in assets from the Volcker Rule. The bill passed by a vote of 300-104, and still needs to go through the U.S. Senate and be signed by President Donald Trump before it becomes law.
The rule's namesake, Paul Volcker, criticized a similar bill in the U.S. Senate, and told the
Washington Post
in March that "plausibly small loopholes can be 'gamed' and exploited with unfortunate consequences," if the rule change were to become law.
Rothfus, a longstanding critic of regulation on the financial industry, was very supportive of the rule change and issued a statement celebrating its passing.
"Every day, burdensome and, at times, conflicting regulations are causing local financial institutions to close their doors, hurting local economies, small business owners, and the families who rely on them," said Rothfus in a statement. "The Volcker Rule Regulatory Harmonization Act is about rightsizing regulations so we can provide meaningful relief for community banks with assets of less than $10 billion."
Rotfus has long-standing support from big banks and community banks alike. In the 2017-2018 election cycle alone, Rothfus has received $38,000 from banking political-action committees. Last fall, Rothfus proposed a bill to
eliminate a rule
created to make it easier for everyday citizens to sue big banks in court. It passed, and was signed into law in November 2017. On the other hand, Lamb took no money from corporate PACs during his special election battle against Republican Rick Saccone and specifically, he has taken no money from the banking industry.
But interestingly enough, most of Lamb's campaign money came from small donations, with a good chunk coming from Democratic Leadership. For example, he received $2,000 directly from House Democratic Whip Steny Hoyer and another $5,000 from AmeriPac, a political action committee chaired by Hoyer.
Most Democrats, including local U.S. Rep.
Mike Doyle
(D-Forest Hills), opposed the bill, but 78 Democrats joined with virtually all Republicans in voting in favor of the Volcker Rule change. One of those who voted with Republicans was Hoyer, who was the only person in a Democratic House leadership position to do so.
City Paper
reached out to Lamb's office to ask why he supported the rule and has not yet gotten a reply.
Lamb ran his campaign on many broad economic issues, like protecting social security and calling the Republican-backed tax bill a giveaway to the wealthy. But on other economic issues, he leaned more toward the center, like when he said a
$15 minimum wage
"sounds high, based on what I've been told by many small business owners in our area." This latest vote, one of Lamb's first as a member of Congress, adds to his complex stance on economic issues.
Regardless, while the rule change only exempts small banks with less than $10 billion in assets, some financial experts say it could still lead to big consequences. "The next crisis might be that a bunch of boring commercial banks all make the same mistake in a highly correlated way," said Mike Konczal, a financial reform expert at the Roosevelt Institute, in a March article on
Vox
. "The argument that this doesn't hurt [like] what went wrong in 2008 isn't that good of an argument."
And some progressive Democrats took issue with Democrats like Lamb for supporting the rule change, worrying that the Democratic Party is sending out the wrong message to Americans who are wary of financial institutions. U.S. Rep.
Ro Khanna
(D-Calif.) tweeted on April 17, "Why did 78 House Democrats vote with Republicans to weaken the Volcker Rule, which was passed after the financial crisis to stop banks from making speculative investments? We need a Congress that stands with the American people, not the big banks."