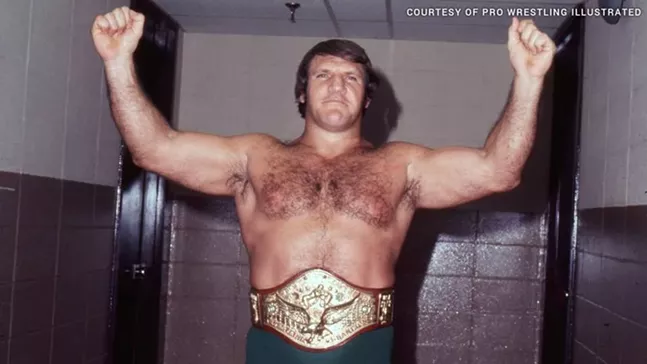 Bruno Sammartino, a Pittsburgh-raised and -based wrestling icon, has passed away at the age of 82. Sammartino was a second generation Italian-American immigrant who began his wrestling career at 24 with local TV program Studio Wrestling and later went on to compete in the World Wide Wrestling Federation (WWWF, which became the WWF, now WWE). He sold out Madison Square Garden 187 times and captured the hearts of fans as one of the longest-reigning world champions for WWF, holding the belt for nearly 8 consecutive years. He racked up many
Pro Wrestling Illustrated
's Match of the Year awards among other accolades. Sammartino was respected and loved by his fans and others in the locker room.
Sammartino's life began in Pizzoferrato, Italy. During WWII, his family was forced into hiding during the Nazi occupation. When the entire family finally moved to the United States, Sammartino suffered health ailments from those tumultuous years that led to bullying and teasing. He transferred that energy into bulking up physically, eventually breaking a world record for deadlifting before pursuing a career in professional wrestling.
As a personification of the American dream and an incredibly charismatic performer, Sammartino charmed and won the adoration of many wrestling fans. He was inducted into the WWE Hall of Fame in 2013 after years of turning down the offer because of his opposition to the company's use of steroids and what he viewed to be vulgar storylines.
Sammartino is a legendary figure in the world of pro-wrestling, and his death is a reminder that wrestling would not be where it is today without the talent of Sammartino, "the Italian Superman."