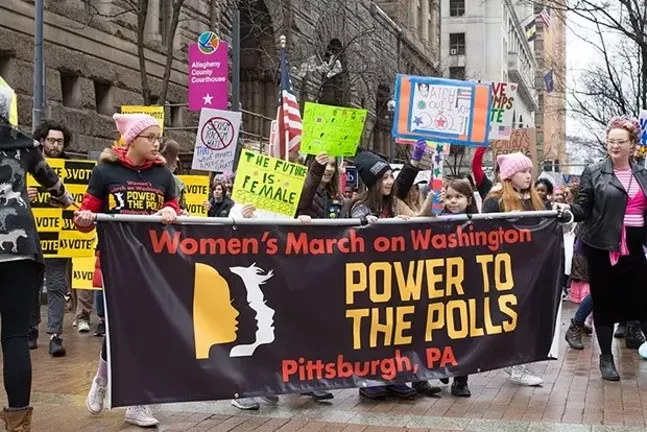 A Pennsylvania woman employed full time will earn $10,733 less annually than a Pennsylvania man. This loss equates to 80 weeks worth of food and more than a year's worth of rent, according to a
new report
from the National Partnership for Women & Families.
For women of color,
the disparity
increases. In Pennsylvania, black women earn close to $17,000 less and Latinas make $22,724 less than the average man. This amounts to a combined total of nearly $35.4 billion in unearned wages every year due to the gender-based gap in Pennsylvania.
"The gender-based wage gap results in staggering losses that make it harder for women, in Pennsylvania and across the country, to pay for food and shelter, child care, college tuition, birth control and other health care," Vicki Shabo, National Partnership vice president for workplace policies and strategies, said in a press release.
But Pennsylvania is not alone. This
gender wage gap
exists in all 50 states and the District of Columbia. Pennsylvania ranks 23rd in terms of the male-female earning gap. Here, women earn 79 cents on the dollar compared to men, according to the National Partnership. The largest gaps occur in Louisiana and Utah where women earn 70 cents for every dollar earned by a man. The smallest gaps exists in New York, California and Florida.
On average, women in the U.S. earn 80 cents for every dollar paid to men, according to the report. Of Pennsylvania women working full-time, year-round jobs, black women are paid 68 cents for every dollar men earn and Latinas earn 57 cents for every dollar men earn. Asian women in the state earn 81 cents for every dollar, but still miss out on $10,457 in wages compared to men.
The report broke down wage gaps by congressional district and found women in
Pennsylvania's 18th U.S. Congressional District
, located south of Pittsburgh, earn 72 cents on the dollar, which is the worst in the state. In the 18th District, men on average earn $60,303, compared to women who, on average, earn $43,384. Women of the 1st Congressional District in southern Philadelphia earn 86 cents for every dollar, but both men and women earn relatively low wages there.
According to the National Partnership's data, Pennsylvania women only closed the annual-earning gap by $29 since last year. The
Institute for Women's Policy Research
estimates it will take 41 years to close the wage gap in the U.S. And for women of color, the rate of change is even slower. Black women will have to wait until 2124 for equal pay, and Latinas will have to wait until 2233.
The wage gap persists across industries and education levels, the National Partnership also found. For example, in the health-care industry, women are paid 72 cents for every dollar paid to men, and in sales, women are paid 62 cents for every dollar. Women with master's degrees working full time are earning 73 cents for every dollar paid to men with master's degrees.
Debra L. Ness, president of the National Partnership, says the continuation of this wage gap not only hurts women now, but will impede their future progress.
"If our country is to thrive, we must root out bias in wages, reject outdated stereotypes, and stop penalizing women for having children and caring for their families," Ness said in a press release.
An Equal Pay Day rally will be held at noon on April 19 in Market Square in Downtown Pittsburgh. It will be hosted by the
Women & Girls Foundation of Southwestern Pennsylvania
.