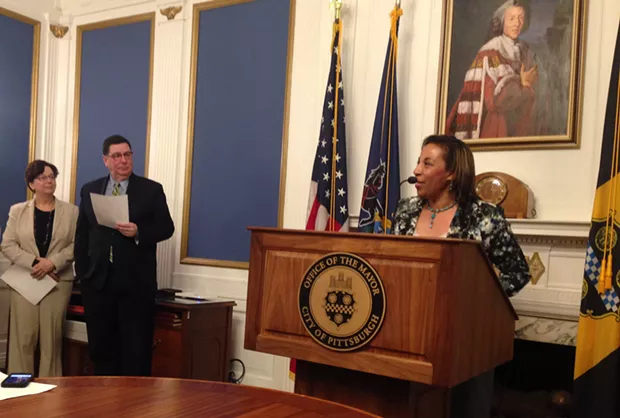 According to the National Partnership on Women and Girls, people who experience domestic abuse typically forfeit 7.2 days of work due to intimate-partner violence. Pittsburgh Mayor Bill Peduto and other Pittsburgh officials want to provide help for these victims in the form of financial relief for the days that they miss from work.
On April 3, Peduto signed an executive order that will direct the Department of Human Resources and Civil Service to develop a policy to provide non-union employees with "paid safe leave." This new policy will ensure that
victims of domestic abuse
can get paid time off to handle situations related to domestic violence, including acquiring Protection from Abuse Orders (PFA), going to meetings related to custody battles, finding child care, and visiting hospitals.
The policy has yet to be written, but Peduto said at an April 3 press conference that a policy must be established by July 3, 2018. Department of Human Resources and Civil Service director Janet Manuel said at the press conference that Pittsburgh officials will be working with local groups like the Women's Law Project,
Pittsburgh Action Against Rape
, and the Women's Center and Shelter of Greater Pittsburgh to craft the policy over the next 90 days. Manuel said details to be ironed out could include exactly how many days off will be provided to domestic-violence victims.
Manuel said the policy, when implemented, will apply to about 1,500 non-union city employees. Peduto said he will be pursuing collective bargaining with the remaining 1,700 union employees and hoping to add similar provisions to their contracts.
Arizona, California, Connecticut, Massachusetts, Oregon, Vermont, Washington state and Washington, D.C., all have enacted paid-time-off policies for
domestic violence
victims. Peduto said he is hopeful that once Pittsburgh's policy is written, other private companies and local governments in Pittsburgh and Pennsylvania will also enact similar policies.
"We are looking to craft a policy, not only to pertain to city of Pittsburgh employees, but hoping it will be used as model for other companies to follow and for other cities to follow," said Peduto.
Susan Frietsche, of the
Women's Law Project
, also spoke at the press conference and said a policy like this is necessary in order to seriously take on domestic abuse.
"The Women's Law Project hears on almost a daily basis from women who are struggling with insecurity to get money and to keep a job that keeps them stable," said Frietsche. "For those experiencing domestic violence, job security is absolutely imperative."