Since the Pittsburgh Aviation Animal Rescue Team had its first takeoff in 2006, Megan and Jonathan Plesset estimate they've rescued around 7,300 animals. The
nonprofit
enlists a fleet of volunteers, pilots, small passenger planes and landplanes (a.k.a. trucks) to take animals out of dangerous situations — areas affected by natural disasters, rural populations where shelters can't afford to feed their animals — and bring them to safety. Considering the expense, time, red tape, manpower and logistics of the operation — not to mention that this is a not-for-profit volunteer operation — 7,300 is an impressive figure.
Now, thanks to a donation from the Rachael Ray Foundation, the Plessets are hoping to see that number skyrocket. The foundation, started by the celebrity chef, TV personality and philanthropist Rachael Ray and funded from proceeds of her luxury dog food Nutrish, had contributed smaller gifts to PAART in the past, but earlier this year offered the largest gift to date.
"[Rachael Ray Foundation] reached out and said, 'We love what you're doing, and we want help finance to do bigger rescues under safer conditions,'" says Megan.
PAART is expecting the new plane around eight weeks from now, and Jonathan says they're hoping to be flying it for rescue missions by midsummer. They currently operate with one aircraft owned by the PAART nonprofit, along with five supplemental passenger planes owned by their volunteer pilots. The challenge they're hoping the new plane will solve is simply the logistics of weight.
"Right now, weight and volume are the biggest issues for aviation," says Jonathan. "The PAART plane can carry around 350 pounds of dog ... or cat, or animal. We can carry maybe four full-size crates and two to three smaller crates."
With the new plane, that figure jumps to about eight to 10 big ones, and as many smaller crates as room allows. PAART averages around 12 animals rescued per flight; Jonathan estimates that number reach 30 in the new craft.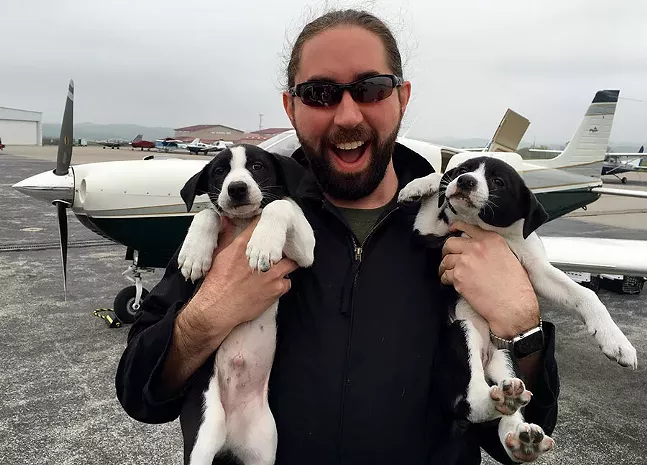 PAART was founded by Jonathan Plesset and Brad Childs in 2006, after they grew bored with aimless flying for the fun of it. A friend asked them to make a run to pick up an animal in need, and the idea took off. Instead of flying for relaxation, they could actually use their skills to help. PAART acquired nonprofit status in 2012.
Partnering with philanthropic and educational institutions across the East Coast — including the Pittsburgh Zoo — PAART's main focus is servicing areas where animal shelters are underfunded, like West Virginia and Kentucky. If a shelter simply can't afford to feed its animals and it's faced with the decision to euthanize, PAART is who they call. The animals are then brought to areas with more resources to care for them.
Hurricane-affected areas have required a lot of PAART's help over the past two years as well. Those trips are even tougher, since many of the places it is looking to land have been damaged, destroyed or lack other infrastructure to make air travel possible. After Hurricane Irma in 2017, for example, the PAART plane was unable to land in Tortola in the Virgin British Islands since the airstrip was too short. They had to switch planes stateside in order to touch down in Tortola.
With the new plane and a rising profile, the Plessets are hoping PAART will be better equipped to service animals in need in the future. These days, executive director Mary Withrow is the only paid member (Jonathan also runs a hotel in Shadyside), and they rely on more than 100 unpaid volunteers to stay in operation. But they don't seem to mind the work.
As they write on PAART's website, "Core to our mission is the belief that no animal should be euthanized for a lack of space when they are merely a flight away from freedom."
More information is at
https://nodogleftbehind.org/
.