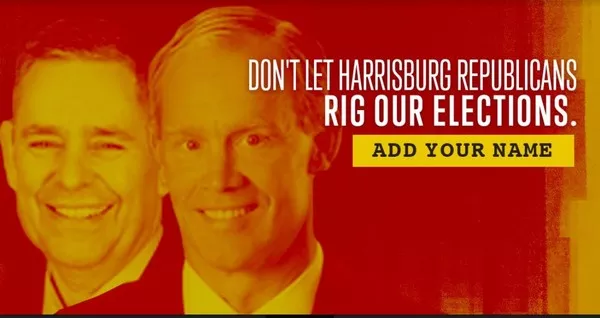 In January, Pennsylvania state Supreme Court justices voted to toss out the Republican-drawn map of the state's
U.S. Congressional Districts
after ruling the map a partisan gerrymander. The five justices who voted in favor were Democrats and the two who voted against were Republicans. After the Pennsylvania legislature failed to agree on a drawing to replace the map, the state Supreme Court justices drew the new map.
State Republicans were pissed, and some even started calling for the state Supreme Court justices to be impeached. In February, state Rep.
Cris Dush
(R-Jefferson) introduced four different pieces of legislation that together called for the impeachment of four Democratic state Supreme Court justices. The pieces of legislation have not received widespread support in among legislators, but a handful of Republicans, including state Rep.
Daryl Metcalfe
(R-Cranberry), have co-sponsored the package of legislation.
Now, the Pennsylvania Democratic Party is launching an online campaign targeting Republicans over the impeach push, including Republicans who hail from the Pittsburgh area. Pennsylvania House Speaker
Mike Turzai
(R-Marshall) and gubernatorial candidate
Paul Mango
(R-Richland) are included in online ads that say "Don't let Harrisburg Republicans rig our elections." Dush is also included in the ads.
"Republicans' call to impeach our democratically-elected justices is a disgusting attack on our independent judiciary, rule of law, and fair and free elections," said PA Dems spokesperson Beth Melena in a statement. "Pennsylvanians have had enough of Republicans' continued attempts to rig the system to protect special interests and their big donors rather than the people."
In a March 23 article on
PennLive.com
, Mango's spokesperson Matt Beynon was critical of the state Supreme Court decision, but did not indicate Mango's position on the impeachment drive.
"The extreme partisanship shown by the Democrat Supreme Court overstepping its bounds epitomizes the Harrisburg swamp. The notion that we are still fighting over congressional district lines eight years after the last census is another example of Harrisburg's dysfunction," said Beynon in the PennLive.com article.
In the same PennLive.com article, a spokesperson for Turzai indicated that the speaker disagreed with the decision by the state Supreme Court, but said that disagreement isn't ground for impeachment.
Turzai's opponent for his state Representative seat,
Emily Skopov
(D-Marshall), thinks Turzai should emphatically come out and say he opposes this impeachment push and ensure that impeachment legislation won't move forward.
"Mike Turzai must clearly state that he opposes any effort to impeach the judges on the Pennsylvania Supreme Court for simply ruling against the Republican Party in the gerrymandering case," said Skopov in a statement. "It would set a dangerous precedent if Turzai were to allow impeachment proceedings to move forward."