On March 6, former Vice President
Joe Biden
visited the Robert Morris University campus in Moon to stump for U.S. Congressional candidate Conor Lamb (D-Mount Lebanon). Lamb is facing Pennsylvania state Rep.
Rick Saccone
(R-Elizabeth) in a special election on March 13 for an open seat in Pennsylvania's 18th Congressional District.
Biden spoke inside RMU's Yorktown Hall to a crowd of more than 400 people about Lamb's dedication to supporting middle-class Pennsylvanians and to lifting up labor unions. But Biden also focused on issues pertaining to creating a better future for the country. He said that he has never felt more optimistic about America than right now, and said that it's young candidates like Lamb who give him hope.
"Character matters. The man I am campaigning for, he reminds me of my son, Beau Biden," said Biden referencing his late son, an U.S. Army veteran who died of cancer in 2015. "He has character."
Biden railed against the Republican-backed
tax-cut bill
and said that it is a precursor to cuts to Social Security and Medicare, the subsidized health-care plan for seniors. He insinuated that Republican fundraising groups are
buying so many ads
in the region as a way of attacking Lamb, who has also called the tax-cuts a betrayal to the middle class.
"Folks, let me ask you something — do you think you have seen enough TV ads?" said Biden. "Republicans can pay for their entire tax cut with all the money. $10 million dollars in negative ads. Why are they so afraid of [Lamb]? Do you think they are spending all this money against him, because they are afraid he is going to hurt the middle class? No, they don't give a damn about that."
Biden said Republicans shouldn't be focused on tax cuts, and should instead be focused on closing tax loopholes. Biden said closing some tax loopholes could bring huge benefits to young Americans.
"I can send every single person to community college for free for $6 billion a year," said Biden. "And all you have to do is eliminate one tax loophole. That could also cut the cost of college in half for many students. Folks, let's get Conor to do just that."
The event was requested by the Young Democrats of RMU, and the crowd was a mix of students and middle-aged people. Donvan Powers, a junior at RMU, stood in the front row and said that he's supporting Lamb because "he is a breath of fresh air, and he is young." If Lamb were to be elected, he would be the second youngest member in the U.S. House and just five days older than the youngest, U.S. Rep. Elise Stefanik (R-New York).
Powers said he likes that Lamb is focused on tackling
student-loan debt
. According to
CNBC
, people in their 20s who carry student-loan debt owe an average of $22,135. "Being a younger candidate, [Lamb] absolutely understands our issues better than other politicians," said Powers.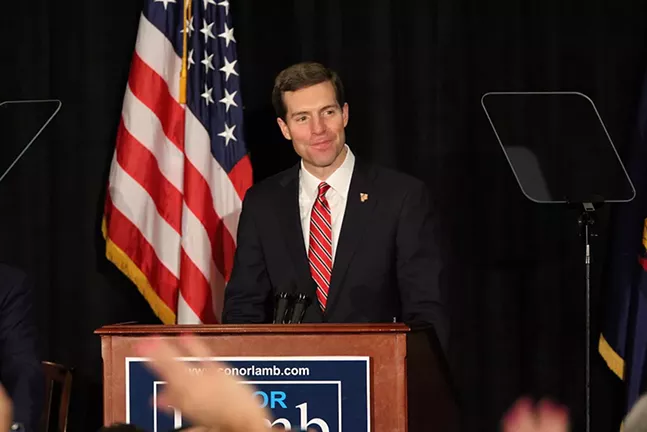 On his campaign website, Lamb writes that students should be allowed to refinance their loans and pay some of the debt with pre-tax dollars. Lamb's website states that he would also work to expand programs that help alleviate student debt, if people work in public service or under-populated professions. "We need to reform our student-loan system, which right now forces too many students into a lifetime debt trap," wrote Lamb on his campaign website. "If you want to go to college or get other post-secondary education, you should be able to do that without taking on decades worth of debt."
Cassidy Kind, a sophomore at the Community College of Allegheny County, also attended the speech and said she will be voting for Lamb because of his focus on student debt. "I am going into a lot of debt," she said. "If there is a way to help alleviate that stress on my family and myself, then I am going to support it."
And millennial energy could be key to a Lamb victory. According to
Pew Research Center
, millennial interest in voting in midterm elections is up drastically compared to 2010 and 2014. In the 2018 midterms, 62 percent of millennials are looking forward to voting, which is up from 46 percent in 2014 and 39 percent in 2010. For the 2018 midterms, millennials have similar interest rates in voting compared to Gen X-ers (62 percent) and baby boomers (64 percent).
Recent polls have shown Lamb holds a commanding lead over Saccone for support among young voters. A March 5 Emerson College poll shows 18-to-34-year-olds supporting Lamb by 51 percent, while only supporting Saccone by 29 percent. A March 7 Gravis poll says 53 percent of 18-to-29-year-olds would vote for Lamb, compared to 17 percent who would vote for Saccone.