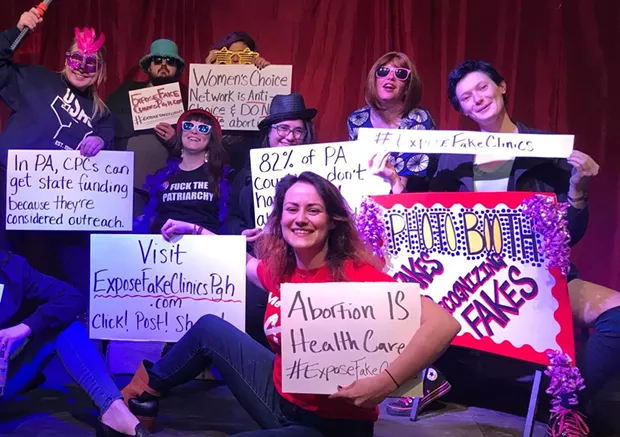 The Pittsburgh chapter of the
Democratic Socialists of America
say faith-based "crisis-pregnancy centers" are using false advertising, deception and intimidation to trick women into using their services. These medical clinics don't provide comprehensive reproductive health care, like performing abortions, but offer other medical services. However, the DSA, a progressive political group, says the centers market themselves as places to learn about pregnancy and offer consultation on
abortion decisions
.
For this reason, a DSA committee has labeled them as "fake clinics" and have started a campaign called
"Expose Fake Clinics PGH"
to teach people about the seven crisis-pregnancy centers (CPCs) in the region.
"Time is essential when pregnant and seeking health care," says Crystal Grabowski, chair of the DSA Socialist Feminist Committee. "We hope to reach as many people as possible, so they know how to identify these fake clinics."
There are more than 2,500 CPCs across the country according to the DSA project. Considered outreach programs, many states, including Pennsylvania, provide government funds to CPCs. Facilities can receive state funding through the Temporary Assistance for Needy Families program.
Many CPCs offer pregnancy tests, sonograms and testing for sexually-transmitted diseases, but don't offer
abortions
or referrals to facilities that can perform abortions. In addition, many CPCs do not provide accurate information on abortions, according to the DSA project. Some of these clinics take names like "Pregnancy Resource Centers" and appear in Google searches for "Abortions near me," which can become a barrier for women looking for immediate information needed for a informed decision.
According to the DSA project, seven CPC networks are housed in Pittsburgh, including
Women's Choice Network
, Choices Pregnancy Center and Cura Women's Care Clinic. Many of these networks have multiple locations throughout the Pittsburgh region.
Amy Scheuring, executive director of Women's Choice Network, says that all four of the Women's Choice Network facilities are medical clinics facilitated by medical professionals and nurses providing service and accurate information to thousands of men and women each year.
"The term 'crisis-pregnancy center' is a term from out of the '80s used to describe centers that are not medical clinics," says Scheuring. "There are many medical clinics that do not provide abortions, and they are not considered fake."
The "Expose Fake Clinics PGH" website, which launched Feb. 25, offers clues to spot if a clinic is a CPC, like when the establishment requires an ultrasound prior to scheduling an abortion, or when the facility doesn't offer prenatal care. The DSA project also offers information on the three clinics in the area that provide abortions: Planned Parenthood, Allegheny Reproductive Health Center and Magee-Women's Hospital of UPMC.
This year, the U.S. Supreme Court will hear a case that centers around CPCs. The National Institute of Family and Life Advocates (NIFLA), a pro-life nonprofit, is the plaintiff in that case and is seeking to overturn California's Reproductive Freedom, Accountability, Comprehensive Care and Transparency Act, which requires CPCs to provide women with accurate information about birth control and abortion. NIFLA claims the California law goes against its First Amendment right to freedom of speech.
Grabowski, of the Pittsburgh DSA, says the group's campaign gives pregnant women in the Pittsburgh region another tool to safeguard themselves against places which may not provide all the available health-care information.
"As a socialist feminist, we think abortion is health care," Grabowski said. "We deserve to know and have accurate resources available."