Dispatch No. 2 from
City Paper'
's exploration of area fish frys.
Last week
, I went to Immaculate Heart of Mary, in Polish Hill, and was disappointed in the sandwich but delighted by the sides. This week at the Swissvale Fire Department, I was hoping for a better fish-sammy experience.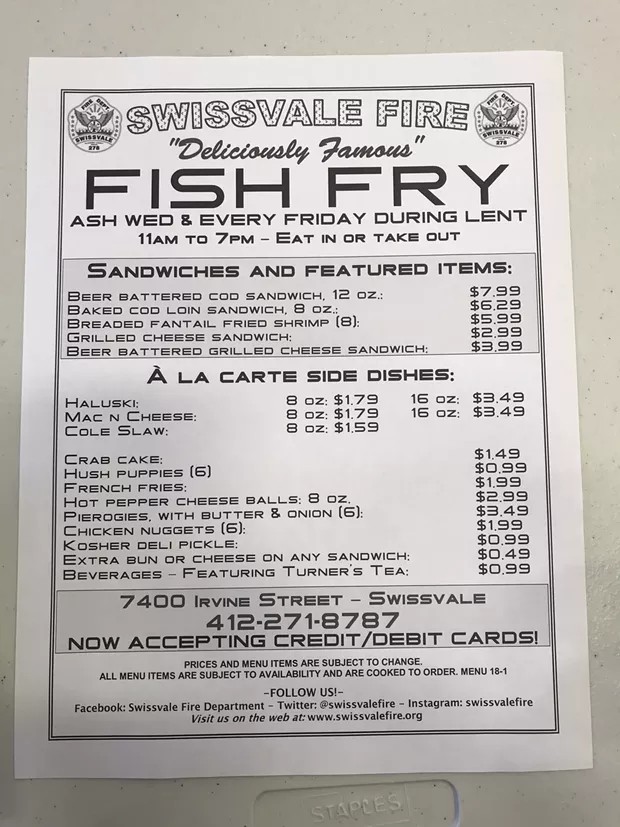 But the joke was on me, because by the time I arrived at 5 p.m., they'd already sold out of fish. Swissvale Fire Station is apparently very popular, as I found out from two gleeful men who told me I should have pre-ordered like they did. Discouraged but undeterred, my friends and I still enjoyed what was one of the best fish frys I've been to yet. I'll give you four words: beer-battered grilled cheese.
It was fantastic — like all of your fried dreams come true. Strong seconds in the savory department were the fried shrimp and hush puppies. The space inside the garage was bright and welcoming with some distractions for the kids. The fire trucks and a fireman's pole were a big hit.
If you'd like to hit up this fry, I'd highly suggest ordering by phone. The place was packed, and it took us an hour to get our food. But, it was still worth it.
Check out the
Pittsburgh Lenten Fish Fry map
for lots of options throughout the season.
Swissvale Fire Department
7400 Irvine St., Swissvale
412-271-8787