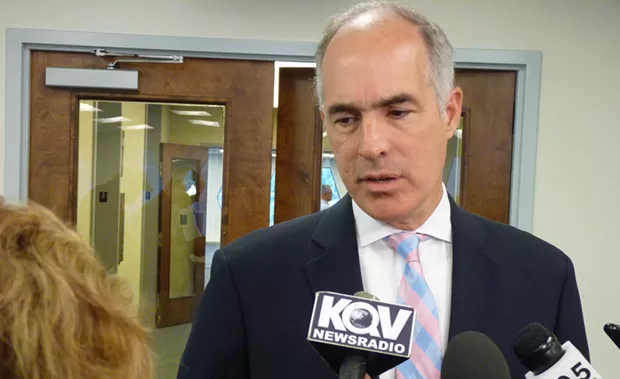 Political ads for the upcoming March 13 special election between former U.S. assistant Attorney
Conor Lamb
(D-Mount Lebanon) and state Rep.
Rick Saccone
(R-Elizabeth) have taken up the new tax cuts as a central issue. The National Republican Congressional Committee has put out attack ads stating that Lamb is aligned with U.S. Rep. Nancy Pelosi (D-Calif.), who called the tax cuts "crumbs" for middle-class families. (Lamb has said the tax cuts are a "betrayal" to the middle class, but stated in January that he doesn't support Pelosi.)
Since the bill's passage in December, headlines about the
tax cuts
have focused on some large corporations that have doled out $1,000 bonuses to workers and others that have slightly increased workers' wages. Also, according to nonpartisan Urban-Brookings Tax Policy Center, households making $60,000 a year will have their after-tax income inch up about 1.5 percent after 2018, but those will tax savings will tick down by 2025 and be eliminated in 2027.
And some Pennsylvania Democrats are starting to point out who they believe are the real winners of the tax-cut bill: the wealthy.
Pennsylvania U.S. Sen.
Bob Casey
(D-Scranton) tweeted on Feb. 22 about the deluge of corporations that were providing billions of dollars in
stock buybacks
to their shareholders. Stock buybacks are when companies purchase their own shares as a way to return cash to their shareholders. News site
Axios
reported on Feb. 21 that 43 companies had announced stock buybacks totaling $173 billion. Billionaire investor Warren Buffet announced that his company, Berkshire Hathaway, reported a $29 billion gain due to the new tax law.
Casey, who voted against the tax-cut bill, wrote on Twitter that if banking giant
Wells Fargo
had given its $22.6 billion in stock buybacks to its U.S. employees, instead of shareholders, those workers could have received a $42,000 bonus. Wells Fargo did announce an increase in its minimum wage to $15 an hour, thanks to the tax-cuts, but that means minimum-wage Wells Fargo workers are only seeing an extra $3,120 a year.
Casey was particularly upset about the discrepancy between stock buybacks and worker compensation, since he authored an amendment to the Tax Cuts and Jobs Act that would have insured wage increases were commensurate with increases in executive compensation, stock buybacks and dividends payments. No Republicans supported that amendment, and it was defeated in the U.S. Senate.
"As I have highlighted over and over, the GOP tax bill that is now law is a giveaway to the super rich and corporations, and doesn't do nearly enough for the workers who are the reason these companies are profitable to being with," wrote Casey in an email to
City Paper
.
According to New York University economist
Edward N. Wolff
, the richest 10 percent of U.S. households own 84 percent of the nation's stocks. The richest 1 percent own 40 percent of the country's stocks.
The New York Times
reported on Feb. 26 that U.S. companies' investment in factories and business equipment grew by 6.8 percent due to the tax cuts. But more wealth appears to be transferring to stock owners, as the round of stock buybacks in the last fiscal quarter was the largest ever recorded in a single quarter, according to market-research firm Birinyi Associates.
Pittsburgh's U.S. Rep.
Mike Doyle
(D-Forest Hills) was also upset about the discrepancy between stock buybacks and benefits to workers. He
tweeted
on Feb. 26, "The numbers are in, and they confirm what we've been saying all along — the [Republican] tax bill overwhelmingly benefits large corporations and wealthy investors. Very little of the tax cuts trickles down to most workers — and what does, is temporary."