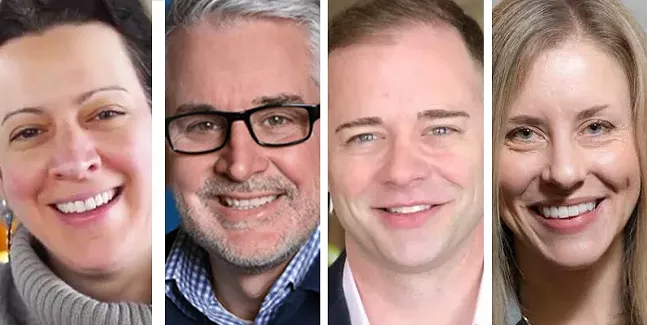 At a candidates' forum Thursday night for the upcoming Pittsburgh City Council special election for District 8, one Democrat, two independents and a Republican made their cases to district voters at Squirrel Hill's Jewish Community Center of Greater Pittsburgh.
Democrat Sonja Finn, independents Marty Healey and Erika Strassburger, and Republican Rennick Remley were pressed on issues ranging from the city's Amazon HQ2 bid to air quality. And while there were many things the four candidates didn't see eye to eye on, they all agreed the Pittsburgh Water and Sewer Authority, which has been
plagued by a number of issues
in recent years, is in need of serious overhaul.
"We all know what's happening with PWSA is a large problem," Finn said. "But we can't let it overwhelm us."
But concurring that PWSA needs fixing is where the agreement stopped. Healey and Remley said the city should consider public-private partnerships to help address issues at the ailing PWSA, while Finn and Strassburger stressed that the city's water authority should remain public.
This was a common thread throughout the night as candidates agreed on the city's problems, but disagreed on how best to address them.
In the wake of the
mass shooting
in Parkland, Fla. where 17 people were shot and killed, the topic of gun violence was quickly raised at the Feb. 22 forum.
Remley said one option Pittsburgh has is to ban guns in the city, though he didn't actually say whether he supported this option. Finn said the city should start by enforcing laws already on the books, such as Pittsburgh's
lost-and-stolen-gun ordinance
that requires firearm owners to report if their guns are lost or stolen. The city passed the ordinance in 2008. Pittsburgh Mayor Peduto pledged to enforce it during his first mayoral campaign, but a few months into his second term, he has still failed to do so.
Strassburger says the city can't enforce the legislation. At the forum, she said the city would face a lengthy, multi-million-dollar court battle. Conversely, Finn said, "I think it's worth spending a million dollars to do it." But Strassburger said, "It's a different conversation once you're in office," and suggested the city spend its resources on improving gun-buyback programs.
All candidates said working with state government is integral to addressing this issue. And a positive working relationship with Harrisburg was a common thread throughout the night. But Remley said that due to the Republican majority in the state legislature, he would be the best candidate to secure funding from Harrisburg.
"I speak Republican," Remley said. "Pittsburgh is left out all the time when funding is being spread around from Harrisburg."
In addition to these big-picture issues, the forum also touched on issues that impact Pittsburgh residents more commonly, such as wet basements resulting from stormwater overflow. All of the candidates said they support incentives for building with permeable materials that soak up storm water. But Healy said the city should also solicit help from other municipalities that have proven success in addressing this problem.
Finn earned the Allegheny County Democratic Committee endorsement in January, prompting Healey and Strassberger, who also sought the endorsement, to run as independents. Finn won the endorsement over Strassburger by a vote of 27-20.
Strassburger has racked up a number of other endorsements, though. Just this week, environmental activism organization
PennEnvironment
endorsed her. And Strassburger has also been endorsed by the Pittsburgh Firefighters union, Clean Water Action, Iron Workers union, the Shadyside Chamber of Commerce, Service Employees International Union, Allegheny County Executive Rich Fitzgerald and Mayor Peduto.
Remley was endorsed by the Pittsburgh Fraternal of Police. The other two candidates have not released official endorsement lists.
The special election is set for March 6.