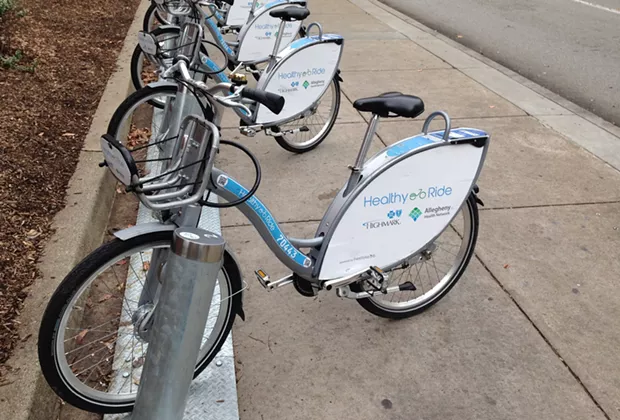 Pittsburgh Bike Share, also known as Healthy Ride, currently serves about a dozen Pittsburgh neighborhoods. Many
stations
are near bike trails and popular destinations. The system has excelled at generating rides near these bike-friendly places: Healthy Ride has tallied more than 212,000 rides since the system opened in May 2015.
And now, Healthy Ride is looking to expand its reach. On Feb 20., the
bike-share
nonprofit announced it would be adding 125 new stations and 200 additional bikes throughout the city of Pittsburgh. The expansion will add many more stations to areas already served by Healthy Ride, in an effort to fill in the gaps in service and make it
more convenient
for riders to find stations. According to a Healthy Ride press release, twice as many Pittsburghers will be within a half-mile of current and proposed stations
But the expansion will also move into new neighborhoods, including serving some low-income areas than currently don't have any bike-share stations. These new neighborhoods include: Highland Park, Homewood, Larimer, Squirrel Hill and the Station Square area of South Side.
"We are building a better bike-share program for Pittsburgh," said Pittsburgh Bike Share director David White in a press release. "By creating more connections and connecting more
neighborhoods to Healthy Ride, we're reaching more people who need access to convenient,
affordable transportation. We want [bike share] to be for everyone."
According to Healthy Ride's press release, the expansion will create more than 30,000 potential routes around the city. There was also an effort to get many stations near public transit hubs to maximize Healthy Ride's
partnership
with the Port Authority of Allegheny County. (Shortly after exiting a bus or light-rail car, riders can tap their ConnectCard on Healthy Ride bikes to get a free 15 minute bike-share ride.)
Healthy Ride is currently accepting feedback on the proposed expansion and will hold community meetings throughout the area to inform residents of the proposed changes. To provide feedback on the expansion, visit Healthy Ride's
expansion website
.