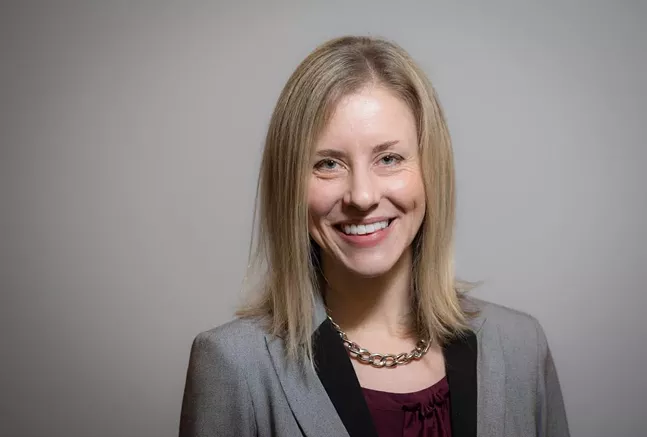 Before Erika Strassburger worked as chief of staff for former Pittsburgh City Councilor Dan Gilman (D-Squirrel Hill), she worked as an environmental advocate in Pittsburgh and in New Hampshire. She told
City Paper
back in
January
that her environmental chops would be valuable on city council, especially considering the ongoing problems at the Pittsburgh Water and Sewer Authority (PWSA).
Strassburger
is running to replace Gilman's former 8th City Council District seat in a special election that will take place March 6.
"I spent a decade fighting for clean water, and right now the
PWSA
has $4 billion in capital needs and a federal mandate to lower lead levels," said Strassburger in January. "We have to keep water publicly owned, but make sure important changes are implemented. Green infrastructure needs to be a priority first, and I believe there are ways to raise money for that."
And now one of the state's biggest environmental-advocacy organizations,
PennEnvironoment
, has thrown its weight behind Strassburger.
"When it comes to protecting our environment, there's no one better than Erika," said PennEnvironment director David Masur in a press release. "For nearly a decade, Erika put her money where her mouth is when it comes to protecting our environment and health — now, and for our kids and future generations."
Masur notes in the press release Strassburger's focus on improving Pittsburgh water quality was a key factor in PennEnvironment providing its endorsement. According to samples taken in December 2017, more than 100 sites in Pittsburgh had lead levels in drinking water above the federal standards. The PWSA is looking to replace 2,100 lead service lines this year.
PennEnvironment deputy director Adam Garber said in a press release that he believes Strassburger will fight for clean water, as well as other environmental causes in the city.
"Erika has walked the walk in so many ways, and her priorities are clear. We know she will be an excellent ally and advocate for Pittsburghers who want clean air, clean water, and great open spaces when she is elected to City Council," said Garber in a press release.
Strassburger, previously registered as a Democrat, is running as an independent against Democrat Sonja Finn, Republican Rennick Remley and Marty Healey, of the newly created Inclusion Party.