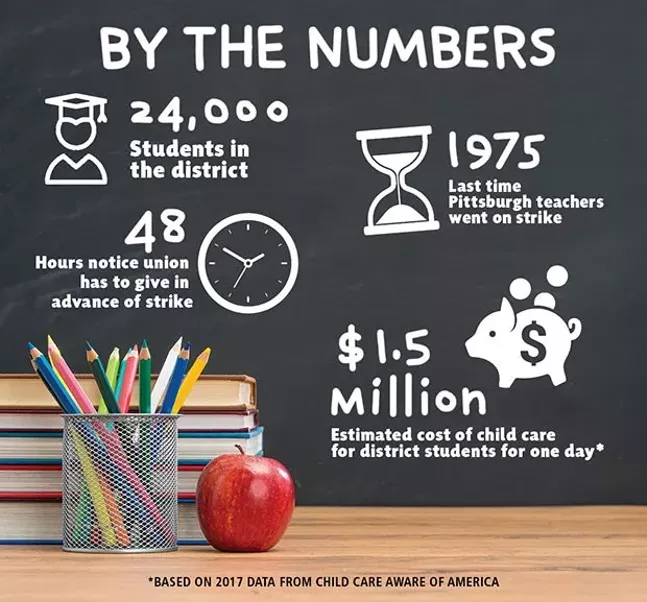 Last night, the executive board of the Pittsburgh Federation of Teachers voted unanimously to strike if PFT President Nina Esposito-Visgitis deems it necessary. The board's vote comes after PFT tallied thousands of ballots from city teachers who overwhelmingly voted in favor of a
strike
earlier this week.
"On Monday, the PFT Executive Board got a clear message from our members that they are willing to go on strike if necessary," Esposito-Visgitis said in a statement. "I am honored that the Executive Board and the members continue to trust the Negotiations Team to advocate for the issues that are important to them and their students."
PFT has been negotiating with the Pittsburgh Public School District on behalf of teachers, paraprofessionals and technical/clerical employees for months. The district's contract with the union expired on June 30, 2017. Today, they have returned to the table in hopes of reaching a resolution.
"I want the community to know that our educators want to be in school with your kids, but we will fight for what we know is in the best interests of students and schools," Esposito-Visgitis said. "There are a number of important issues that we still need to resolve that will affect students on a daily basis. The negotiations team is prepared, as we have been for the last year and a half, to stay for as long as it takes on Friday to get this contract settled."
According to the
district
, the crux of negotiations comes down to two issues: allowing principals to determine class schedules and teaching assignments; and school staffing. The district says they have reached agreements with PFT on the issues of classroom sizes, healthcare and wages.
"Let me be clear, the core two issues that remain unresolved, Principals' Right to Manage and Teacher Churn, speak directly to the basic quality of the education the children receive," PPS Superintendent Anthony Hamlet said in a statement. "We strongly believe that our principals must be able to assign teachers to classes where they are most needed, just as a coach must assign players to the appropriate position for a team to win. The district must be able to staff its schools in order to minimize students' disruption."
Education watchdog group A+ Schools has been working with local nonprofits to develop a plan in the event of a strike. So far, a handful of organizations have committed to providing childcare. These include Voices Against Violence in Beltzhoover, several YMCA locations and the Boys and Girls Clubs in Shadyside and Lawrenceville. Additionally, the Greater Pittsburgh Community Food Bank is building food reserves to feed students since many low-income students depend on the meals they receive at school during the day.
"While the union and district hammer out contract negotiations, one thing seems to be missing from the discussion – how do we ensure that over 24,000 students will receive the care, attention and education they deserve if a strike should occur?" A+ Schools Executive Director James Fogarty said in a statement. "We can't leave kids out of the equation. We continue to hope that both sides will create more comprehensive plans to staff high needs schools where teacher turnover and resignations are high so that teachers and students can be successful."
A+ Schools is one of a number of organizations and officials who have weighed in on contract negotiations this week, including Pittsburgh Mayor Bill Peduto who issued a statement today.
"Both the County Executive and I have offered our assistance in brokering a compromise and helping in all ways to solve the contract dispute between the PFT and the schools administration," Peduto said. "My hope is that the president and superintendent will be able to reach a deal today. If not, I will continue to work to assure that the interests of our students and their families come first. And I will continue to reach out to the superintendent and the board to offer my resources, and the resources of our city, to resolve this issue before our schools close. To be certain, I will continue to be involved in this matter, as would any mayor who had the possibility of a strike in their city."