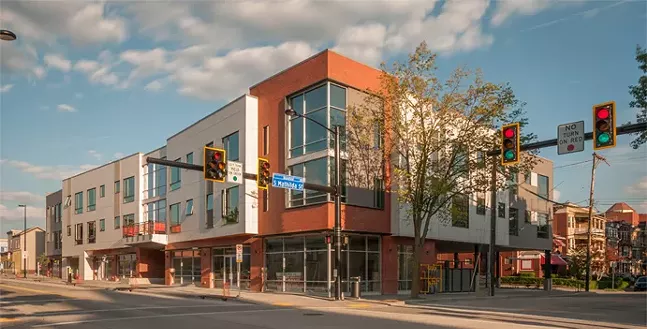 On Feb. 8, Pittsburgh's Urban Redevelopment Authority voted to divert up to $6.8 million in parking-tax revenue to help fund an affordable-housing project in the Lower Hill District, near PPG Paints Arena.
The millions will be raised over 19 years by the expected revenue of a 423-space parking garage going up near PPG Paints Arena. The City's Edge mixed-income development will be the beneficiary of the diversion, and the apartment complex will be home to 32 market-rate units, and 74 subsidized units located next to the parking garage.
On Feb. 8, URA Chair Kevin Acklin said the vote fits with the overall philosophy of Pittsburgh Mayor Bill Peduto's administration.
"Instead of just dumping the parking-tax money [into the development project], we want to make sure there is public benefit," said Acklin. "We wanted to say that this money is not available to just general development, but if a project with social equity exists, we want to pursue that."
The diversion is part of guidelines developed in 2016 that use parking-tax revenues to help pay for projects that create quality, full-time jobs for Pittsburgh residents; increase the city's tax base; leverage substantial private investment; improve the city's infrastructure; and provide benefits to the community.
Acklin said this parking-tax diversion strategy is something the URA wants to "continue to do," and he hopes that Pittsburgh City Council might codify a similar strategy through legislation. "This could be another revenue stream, where the federal dollars are not coming in," said Acklin.
This is music to the ears of the policy wonks at the nonprofit Pittsburgh Community Redevelopment Group. Chris Sandvig, of PCRG, spoke in support of the parking-tax diversion at the Feb. 8 URA meeting and said that the City's Edge project was a good recipient of the funds because of its
proximity to public transit
in
Uptown
and job centers in Downtown and Oakland.
"Affordable housing should also be permanent, and in locations that make it easy and affordable to reach life-enabling resources without the use of a car," said Sandvig. "We encourage [the URA] to work with the city to find ways to ensure that and continue the precedent you're setting here."
Sandvig applauded the URA for passing a "creative solution" to the city's affordable-housing shortage. "We also agree that affordable-housing financing needs a
suite of tools
, not just one," said Sandvig at the meeting. "The creative use of parking-tax revenue is a great reminder that the city has more tools at its disposal than we typically rely upon."
Typically, cities like Pittsburgh are reliant on the federal Low-Income Housing Tax Credit (LIHTC) program. LIHTC is a tax credit offered to developers who build and maintain affordable-housing units for an extended period of time. Pittsburgh has also taken measures to create more affordable housing recently when it passed its $10-million-a-year
Housing Opportunity Fund
by raising the city's realty-transfer tax.
But Sandvig is excited at the prospect of even more solutions to avoid a one-size-fits-all approach. He said at the meeting that he agrees with Acklin that the parking-tax diversion should be "systemized" and explored moving forward, and that more innovative solutions to addressing affordable housing will come to the table.
"We hope that this creative approach opens up a local discussion on how to provide better non-auto transportation access alongside affordable-housing goals," said Sandvig.