How does that old phrase go again? The one about meeting your heroes? Oh, right. NEVER DO IT. EVER.

I once heard about a writer who was completely elated to meet Ellen DeGeneres. During the interview, Ellen didn't even smile. That's enough to scar you for one whole lifetime. I think I speak for all of us here in saying that I imagine Ellen smiling even as she's cleaning out the garbage disposal.

Just like all those other sayings go, sometimes you simply can't help yourself. It's easy to imagine that once you meet said hero, you'll become best friends, and go explore cities and eat ice cream together in the style of an '80s-movie montage, while "We're Going to Be Friends" by the White Stripes plays tenderly in the background.


This is why I had to meet Noah Gundersen. Imagine all the ice-cream cones.

In my eyes, there are two groups of largely uninformed individuals in this country — those who voted for Donald Trump and those who have never listened to Noah Gundersen. These two groups have no direct relation to one another.


Noah (who shall now be referred to on a first-name basis) has shaped and influenced nearly all aspects of my musicianship, and I know I'm not the only one.
During the VIP meet-and-greet that preceded his Feb. 3 show at Mr. Smalls, the group of 10 or so of us went to town sharing our Gundersen stories with each other, because after all, Noah and his siblings (depending on the combo and variety of Gundersens that happen to be traveling with him on any given tour) are a package deal.


One couple had seen him an innumerable amount of times — including when he opened for City and Colour this past summer. After meeting Noah and traveling to the back of the Rex Theater and toward his incredibly sweet merch guy for some conversation, someone from another group told me he had only been listening to Noah for a year, but felt his songs were that of his own life and story — that's how close he felt to the artist's narratives.


Noah kept this show particularly in the family, given that his opener was his sister Elizabeth — a bit of femme-fatale-meets-country-songstress if I've ever seen one. She took up about 40 minutes of standard opener time, but the crowd (seated and filled near to capacity) would have killed to hear more. After playing noteworthy tunes from her newest release, Elephant Heart, including surefire slow-sway tune "Falling for You" and guilty pleasure aria "Precious Wine," she summoned her brother to play the title track, one that they co-wrote.


If you thought Noah's upper register is clear as a bell, try again. Lizzy kills, every time.


Don't misunderstand — Noah is biblically good. Lizzy said her farewells — Pittsburgh was her last night on tour; Aaron Gillespie of Underoath and The Almost was set to join Noah two days later in New York. Then, Noah kept it organized and played his latest album's opener, "AFTER ALL (EVERYTHING ALL THE TIME)." When this was followed by "Halo" and "Isaiah" — two delicate and stupidly heartbreaking songs from two older albums — I applied my spy-school training and gathered that this was going to be one musically unpredictable night.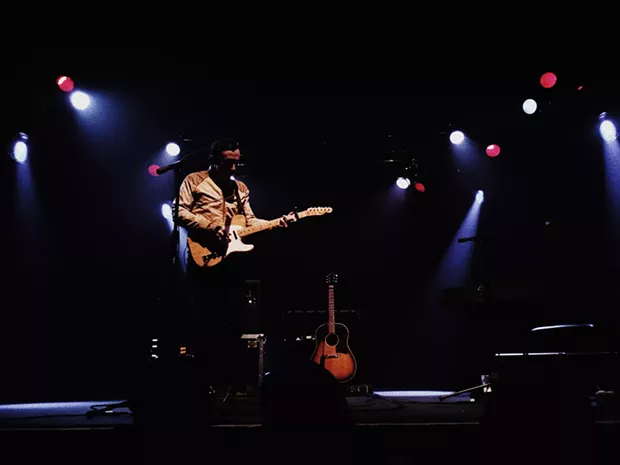 There were some weather jokes. There was talk about cruddy small towns. He covered Sade. Of his new album, WHITE NOISE, he chose to play only "NEW RELIGION," "FEAR & LOATHING" (fan favorite and a high-key jam), "THE SOUND," and "SEND THE RAIN (TO EVERYONE)." He did bless attendees with two unreleased tracks from a WHITE NOISE B-side, which were equal parts lovely lyrics and plaintive melody.


I would like to clarify that I am not yell-typing the titles of these new tracks (although that's not off-brand for me); that's simply how Noah chose the monikers on WHITE NOISE, a genre-shifting album that features tasty little synth combos and driving drums alongside his usual sparse/acoustic-driven story-songs.


Alternating between acoustic guitar, electric guitar and piano, the musical moods in the room shifted from year to year, genre to genre. As Noah traveled back into his discography to play years-old favorites like "Heartbreaker," "Liberator" and "Jealous Love," smiles formed and eyeballs leaked — a reminder that all of his songs are home runs.


The only thing missing from this show was Abby, another one of Noah's beautiful, sweet and probably perfect sisters who knows how to blend harmonies like nobody's business — and who has been doing so alongside her brother since the start of his career. I mourned the loss of her swirling violin, ebbing and flowing against the tender grit of his contributions.


Noah's outro was an iconic one — opting against an encore and finishing on his biggest hit, "Cigarettes." As he jauntily exited the stage, the house lights came up, Bob Dylan's "Shooting Star" played, my throat was lumpy, and I felt a thousand feet tall.


If anyone tells you not to meet your hero, give them a good old kick to the shins. Noah was a total gentleman on- and off-stage, and offered some personal insight into the perception of Harrison Ford ("everybody's dad") and what to do when things are awkward ("face them head on").


Just like that couple who traveled all over the Eastern seaboard to see him live, you never tire of hearing him. Sure, you memorize the words or riffs, but every album never stops sounding brand new (and so distinctly nostalgic) every time you bring that needle down. No matter how many times you convince yourself you've overplayed a Noah Gundersen tune, you're always wrong.