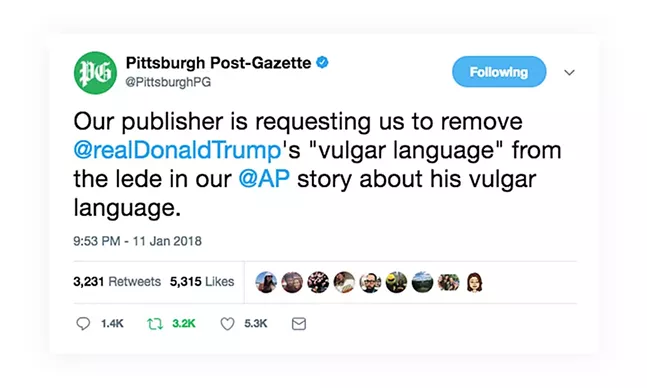 Yesterday, President Donald Trump referred to Haiti, El Salvador and African nations as "shithole countries." The remarks were made during a discussion with U.S. senators about a new bipartisan immigration bill.
"Why are we having all these people from shithole countries come here," Trump
reportedly
said. "We should have more people from Norway."
As is typical following Trump's customary inflammatory comments, the
reaction
was swift. CNN's
Don Lemon
opened his show saying, "This is CNN Tonight. I'm Don Lemon. The president of the United States is racist."
CNN's
Anderson Cooper
took time on his show to reflect on his experience covering natural disasters in Haiti and the people he met there. "Let me be clear, the people of Haiti have been through more, withstood more, fought back against more injustice than our president ever has," an obviously choked-up Cooper said.
Predictably, on the other side of the aisle, Fox News pundits were blasé about Trump's comments. "This is how the forgotten men and women of America talk at the bar," said Fox's
Jesse Watters
.
But here in Pittsburgh, John Block, the publisher of the
Pittsburgh Post Gazette
apparently believes Trump's remarks were too inappropriate for the front page.
A tweet posted by the
P-G
's verified Twitter account last night states, "Our publisher is requesting us to remove @realDonaldTrump's "vulgar language" from the lede in our @AP story about his vulgar language."