On Jan. 18, President Donald Trump spoke to a crowd of about 200 invited guests at H&K Equipment in North Fayette Township, extolling the benefits of the recently passed
tax-cut bill
. The president claimed that many of the recent announcements by corporations about employee bonuses and expansions were due to the tax-cut bill.
"Because of tax cuts, Apple just announced a $350 billion expansion," said Trump of the California-based tech giant. "Apple is gonna build plants, they are going to build a big campus. … The center of America's resurgence is the tax cuts. "
Trump
also said that his tax-cut bill was having positive effects on H&K Equipment, an equipment-supply company to area manufacturers. "The signs of America's comeback can be seen at H&K," said Trump. "They will be making a $2.7 million capital investment."
But Trump went further than just praising the positive effects of the tax-cut bill. He said that his election has had positive effects on companies too. "H&K just had the most successful year, good job," he said.
But the claim that positive economic growth at H&K was due to Trump's election and his first year in office are questionable. H&K employs about 300 people, but Alana Marts, an H&K employee who spoke to
Pittsburgh City Paper
before the speech, said that the company has been seeing rapid expansion for the last four years.
Trump also mentioned how the U.S. has added 2.2 million jobs in 2017 and that unemployment is at a 18-year low. But this is on track with how the economy was rebounding under President Barack Obama. In 2016, the U.S. added just over 2 million jobs.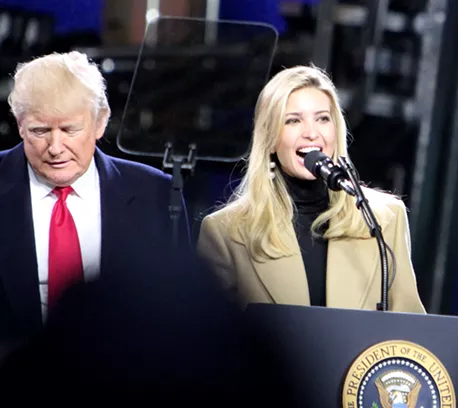 Regardless, Trump said the strong economy will help Republicans win elections. "We are going to win a lot of elections. It's the economy, stupid. Did you ever hear that one?" Trump asked the crowd.
In attendance at H&K were some local invited guests, H&K employees and Western Pennsylvania U.S. representatives, including
Keith Rothfus
(R-Sewickley) and
Mike Kelly
(R-Butler). Pennsylvania state Rep.
Rick Saccone
(R-Elizabeth) was also in attendance. Saccone is running to replace former U.S. Rep. Tim Murphy (R-Upper St. Clair), in a special election against former U.S. Assistant Attorney Conor Lamb (D-Mount Lebanon). Even though senior White House administration officials insisted to reporters on Jan. 17 that Trump's visit was not a political event, Trump tweeted before the speech endorsing Saccone and called him "a great guy." Trump said during the Jan. 18 speech that he will return to the region to "fill up a stadium for [Saccone]."
The end of Trump's speech was heavy on nostalgia, and he talked about the time when America was building the interstate highway system and "big skyscrapers" and U.S. astronauts "landing on the moon." He wrapped up the speech by reliving his 2016 election-night victory in Pennsylvania. "Do you remember?" he asked the crowd. "'Donald Trump has won the state of Pennsylvania.'"