Congratulations to Vanessa German and Bill Shannon, the two Pittsburgh-based artists who were just announced as
United States Artists Fellows
for 2018.
The honor comes with an unrestricted $50,000 award and puts German, an awardee in the visual-arts category, and Shannon, honored in dance, in prestigious company. Other winners this year included trumpeter and composer Terence Blanchard; composer Wayne Shorter; writer and podcaster Starlee Kine; playwright Tarell Alvin McCraney; and multidisciplinary artist Dread Scott.
German
, known for her "power figures" — doll-like sculptures adorned with elaborate arrays of found objects — is also a performance artist well known for her spoken-word work addressing racism and social justice. A great example of her visual art work,
sometimes.we.cannot.be.with.our.bodies
, is currently on display at the Mattress Factory.
Here's a long-form
profile
I wrote about her in 2010. And here's a
review
of her work we ran in 2015.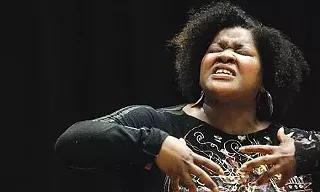 Shannon
, though awarded in dance, is a multidisciplinary artist who often incorporates video and sculpture into his work. Earlier in his career, when he did a lot of street dance, he was known as Crutchmaster; distinctively, he dances on crutches because of a degenerative hip condition. Here's a
profile
of him I wrote in 2007, the year after he moved back to Pittsburgh.