We're spotlighting Martin Luther King Jr. Day events that didn't make it into our print issue.
Here's one: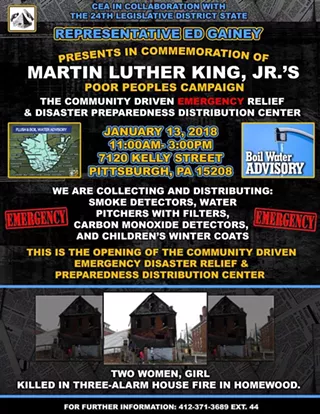 On Sat., Jan. 13, the
Community Empowerment Association
and state Rep. Ed Gainey commemorate MLK's Poor People's Campaign with an inaugural collection for the Emergency Relief & Disaster Preparedness Distribution Center.
The center will collect and distribute smoke detectors, water pitchers with filters, carbon-monoxide detectors, and children's winter coats.
The collection takes place from 11 a.m.-3 p.m.
The center is located at 7120 Kelly St., in Homewood; for more information, call 412-371-3689, x 44.
For more on the event, see
here
.