On an only mildly chilly night in Pittsburgh, a small crowd gathered early at Stage AE for the VIP experience pre-doors. The feeling in the group was one of nervous excitement and uncertainty about what to expect upon entering the nearly empty venue.
Around 5:30 p.m., about three dozen of us were brought into the venue to play the signature St. Vincent guitar, pose at her bright pink press podium from the album artwork, and explore the merch table without a crowd. But most importantly, this VIP experience included an acoustic performance ("Laughing With A Mouth of Blood" and "Prince Johnny") and a half hour or so of discussion.
I don't call it a Q&A because it wasn't like a press conference. She asked as many questions of us, if not more, than were asked of her, and the questions ranged from serious to silly. I took off my journalist cap and asked her what her favorite holiday is ("Halloween, I guess. Or, no! A nice Easter, actually.") I won't say much more on it, just that it was an absolute privilege to engage with such an empathetic, funny and brilliant artist. If you have a strict, "Don't meet your hero" rule, she's one artist worth breaking it for.
The show itself began with a performance from jazz duo Tuck & Patti. They are a married couple who have been performing together for 40 years — and they're also Annie Clark's aunt and uncle. The duo took Clark on the road as a teen and taught her "everything she knows," according to Clark in both the pre-show VIP experience and on stage during the MASSEDUCTION portion of the evening.
Tuck & Patti are an absolutely arresting pair, between Tuck's insane guitar chops and Patti's stunning voice, so powerful and versatile. Her range had me dropping my jaw, and the duo's synchronicity while scatting and improvising was absolutely magnificent. It's clear that Clark is continuously inspired by the pair.
After a few songs, the pair graciously bowed and the curtain closed on them. Yes, the curtain. This show utilized theater-inspired touches throughout the night, but especially in the "Second Act," in which St. Vincent performed re-imagined tracks from her first few albums. The curtains were manipulated in hue and tint and pulled at different angles. The use of a spotlight following Clark felt inspired by dance and theater as well.
But before I jump into all of the visual elements, I'll address the elephant in the room. This tour features Annie Clark solo as St. Vincent, performing her guitar to tracks of the songs that she arranged and recorded. This has caused some level of outrage from mostly old white dudes, but I can say with certainty that while Clark is amazing with a band, she doesn't necessarily need a band to thrive. Her voice and brain-rattling guitar work, paired with her choreography, lighting and charisma make her enough of a presence to keep your eyes locked on her at all times. Given the nature of MASSEDUCTION, having her perform solo on this tour is a no brainer.
It fits the crafted persona, the visual stylings and general feel of the record. Maybe I'm reading too much into it, but a lot of people who want her to perform with a band seem to value the validity of pop music and its particular presentation as lesser than traditional rock performances. And that's their problem, not Clark's.
Additionally, when Clark took the stage for the second portion of the show (as noted in the zine-style show bill handed out upon entrance to Stage AE), the velvet curtain was pulled just a few feet to the right, revealing Clark in a spotlight, holding a microphone in her hand. It felt very "Rose's Turn" in Gypsy — anguished, lonely, but immensely powerful. She started with "Marry Me," before being handed a guitar by a figure in all black to perform "Now, Now."
She moved to a microphone center stage, further back for "The Strangers" and "Actor Out of Work," and eventually through "Cruel," "Cheerleader," "Strange Mercy," "Digital Witness," "Rattlesnake" and "Birth In Reverse" the curtain was fully opened. Once the curtain was fully open, she moved between three microphones, the original on stage right, the middle microphone center stage and the microphone towards the front of stage left. During "Strange Mercy," she began the song curled up on the ground in an incredibly vulnerable position close to center stage, making the already emotive song that much more impactful.

Before the third act — a performance of MASSEDUCTION in its entirety — the curtains were drawn for a brief intermission, during which the crowd buzzed in anticipation. When the curtains were pulled back, a digital screen with Clark's image on it grew larger. This screen's colors were carefully presented in addition to Clark directed footage from the other music videos and also photo shoots that surrounded the roll out of this record.


The record opens with "Hang On Me," and it was marvelous to see how people in the crowd really did hang on every word, every riff, every carefully choreographed movement. Prior to performing "Sugarboy," she declared the song was for every,"Boy! Girl! And all of those that don't fit neatly into either category." As a genderfluid person, this nod felt intensely beautiful and personal. Being seen and acknowledged by the artist at the center of the show feels very powerful.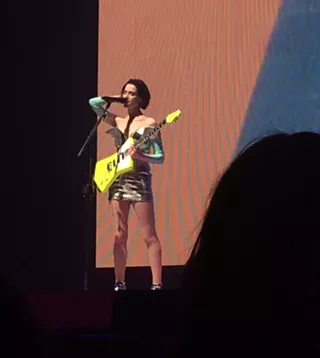 One of Clark's most crucial gifts is being able to engage on a personal level in a room of 35 people or a room of a thousand. Her music is the kind that you can live inside of and move around in — deeply personal but not hyper-specific. All of us have felt the panic and ache present on MASSEDUCTION.
It was moving to hear the crowd's fervor in joining Clark as she sang, "You're the only motherfucker in this city who can handle me."


If you aren't sold on MASSEDUCTION, I highly encourage you to see it in person. It is a rock record at its heart, and the grit and rawness of it comes through spectacularly live. "Fear the Future" nearly set the place ablaze with its intensity, and it's amazing to hear her throw grit on the vocals, wail with intensity during songs like "Pills" and "Los Ageless."
Oh, and she did hit that crazy dog whistle note in "Young Lover," if you were curious.
Clark is making art that anyone can live inside, but that queer folk and women are particularly centered in. This was clear in the way that the non-men in the crowd danced freely and sang passionately, completely giving themselves over to St. Vincent's magnetism.
This entire performance was coordinated to the last detail, between the costumed guitar techs to the strobe lights between mic location and guitar changes, to the fading to black between songs. She engaged far more with the crowd on this tour than on her Digital Witness tour, adding personal details and even performing a Pittsburgh-centric accappella version of "New York." The art direction, lighting and sound team are all crucial to the execution of this tour, and all camps pulled it off flawlessly.
My only complaints were that of the venue. Stage AE proves to be a nightmare venue for anyone who isn't of average or higher height, as standing anywhere but up top or back on the elevated section means jockeying for a break in between tall people to see the action. Additionally, this particular stage setup seems better suited for a narrower, longer venue instead of a very wide one, as exemplified when the curtain was only pulled two-thirds across and Clark stood at the middle microphone, as hardly anyone facing stage left could see her.
Venue complaints aside, this tour is a must-see for anyone who values art and music and artists who can skillfully master the visual and auditory components of their work with care and love and an intense vision.