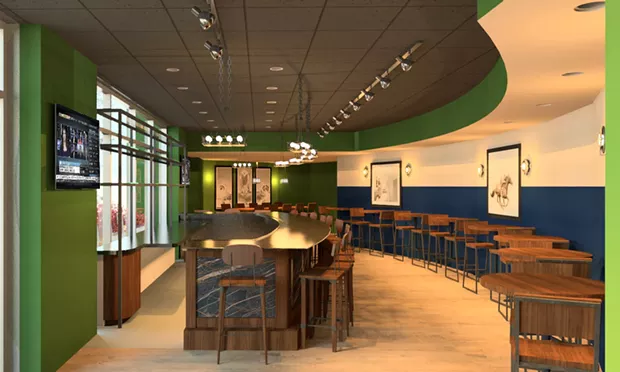 The dining options at One Oxford Center, in Downtown Pittsburgh, are getting a reboot, with a new food hall from Eurest, a company that provides dining services (e.g. vending, catering, dining halls) to local and national businesses. Eurest owns other food halls across the Midwest in Cleveland, Chicago, Detroit and Minneapolis.
While currently under construction, Oxford Market and Bar Oxford are set to open in mid-February and will offer cuisines from around the world, as well as a full-service bar and separate bar menu. Food will be be made to order, and there will be ready-made items as well. The salad bar promises locally and regionally grown produce.

"We're really excited to partner with local Pittsburgh restaurants where we can, in conjunction with local vendors. It's very important that the project is local," says Jim Kallas, Eurest division president. Kallas says the company is close to releasing the names of the local businesses that will be collaborating.

The space itself is 6,000 square feet with communal tables and high tops, as well as outdoor patio seating and large garage doors that will open in warm weather. Cashierless kiosks will be used exclusively for ordering. "In three years, it's going to be everywhere, but I think it's relatively new to the Pittsburgh market," says Kallas
Oxford Market will also feature a program in the cafe space called Apron Exchange. "It's an exhibition station that will be set up everyday that will be used only for women- or minority-owned companies to showcase their products," says Kallas. He hopes that the complementary space will offer business owners will use the opportunity to learn about pricing and menu development, and to test their products on an audience. "It's a great focus group. You get the opportunity to ask people one-on-one what they think," says Kallas.
Food-hall service will be Monday through Friday for lunch, with the possibility of expanded hours based on demand. The bar will remain open in the evenings.