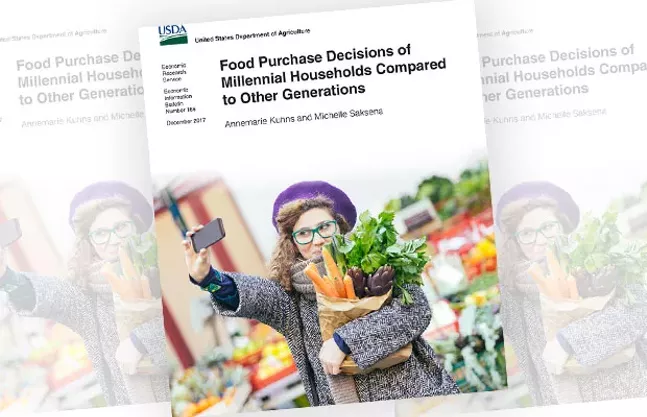 It's 2018! Let the continuous ripping on millennials continue! And this time it's about their eating habits. According to a
report
about the food-purchasing habits of millennials from the U.S. Department of Agriculture's Economic Research Service, millennials are spending less money than any other generation on food purchased for at-home preparation.
Using 2014 as its representative year, the report examines food-purchasing decisions by age and income, covering millennials born between 1981 and the mid-2000s. Income is shown to contribute largely to the food choices, with richer millennials spending more money on fruits, vegetables and unprepared foods.
Findings also show millennials with smaller FAH (food at home) budgets spend heavily on pasta, prepared foods and sweets. Money that earlier generations typically spent on food at home is instead being spent on food convenience as "millennials eat almost 30 percent more often in bars and restaurants than other generations, and they are also more likely to eat on-the-go while driving," according to report findings.
More money spent out means that millennials shop less frequently, and less purchases for home preparation also means less time cooking, cleaning up and even eating. On average, millennials spend 12 minutes less eating and drinking than traditionalists (born 1920-45) who devote 77 minutes daily. Snacking times, however, are the same among traditionalists, baby boomers, Generation X and millennials.
These findings indicate millennials have lower incomes and less personal time overall, especially those who entered the the workforce during the Great Recession. But the report is capped by an image of a chic, expensively dressed Millennial, taking a selfie while holding a brown bag bursting with fresh vegetables, including fresh artichokes (a harder-to-find item at non-specialty grocery stores).
It seems that even in area of food purchasing, the public perception of millennials as a self-absorbed and spoiled generation continues to persist, even when these numbers show otherwise.