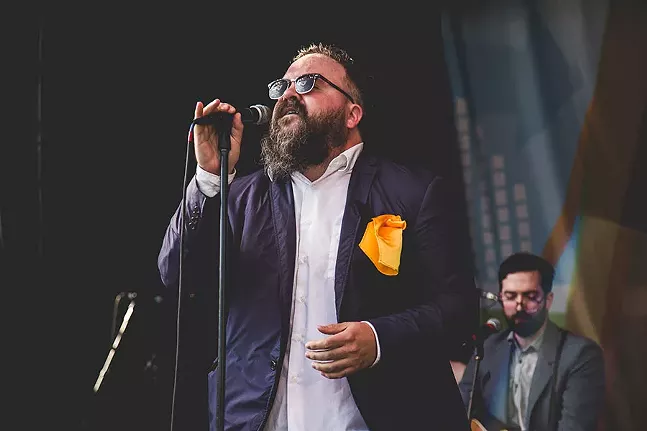 While the Steelers' brutal loss to the Patriots Sunday night is a memory most Pittsburghers would like to leave behind, Clinton Clegg had a night to remember. The iconic local vocalist and frontman for rock/soul outfit The Commonheart opened the game with a powerful rendition of the national anthem, joined by his bandmates Mariko Reid and Anne Celedonia.
It's another highlight in what's turned out to be a productive year for Clegg and his band. They opened the year with a short tour opening for JJ Grey and Mofro, and played frequently around town. Last week, the
Pittsburgh Post-Gazette
reported
that Clegg was tapped to act in a new film,
116 MacDougal
, to be shot in Pittsburgh this spring. And on
New Years Eve
, Clegg and the Commonheart will headline a show at Mr. Smalls, with Cisco Kid and Selecta. There's plenty to celebrate.
But before all that,
CP
wanted to find out what it's like for a hometown kid to perform in such a huge venue under such intense circumstances. Here's
CP
's email with Clegg, edited lightly for clarity.
__
How are you feeling right now, less than 24 hours since the game/performance?
I feel proud. Proud of my bandmates, proud of our accomplishment. And, without a doubt, I also feel very relieved (haha). I was excited to do it but, I would be lying if I did not admit I felt some pressure on this one.
How did this all come about? Who reached out? Can you walk me through what it was like realize that this was going to happen?

John Wodareck, of The Steelers, and I had met earlier this year performing at a charity event in the city, John is also a musician. I had a voicemail from John regarding a "cool opportunity." I returned the call, and the rest is obvious. I said, "Uh, yeah!"
What was your preparation process like?

My wife was sitting next to me after that call, and the first thing she said was, "You should invite the singers and make it Commonheart performance." It was a brilliant idea, and we ran with it and I am really happy I went that route. Mariko Reid and Anne Celedonia from my band did a tremendous job arranging the accompaniment. It made the performance special, in my opinion. We proceeded to rehearse it as much as possible, and that was that.
What's the most difficult aspect of singing the national anthem?

The microscope. I have little things that bug me about the performance, [it's] natural to have that, I think. Being that the song is so short, a minor mishap just glares at you.

Obviously, the national anthem at NFL games has been the subject of controversy in the past year. Did you worry about or consider those issues at all in this process, or were you just focused on the performance?

I really just wanted to do a good job for my family, for my band and for the Steelers. Everything else was far from my mind.
Describe the moments leading up to the actual performance, right before you came out to the field.

Dreamlike. I mean that very literally. And not a "this is my dream" kind of way. It felt unreal. In a really exciting, cool, and exhilarating way.
Now that it's over and went well, can you tell me what your biggest fear was going into the performance?

I talk myself into believing fear is excitement. And for me, that reigns true. Corny answer I know, but that's what I tell myself.
What was the most memorable part of the experience?

Coach Tomlin, to me, is a man of great character and is someone I look up to, not only as a fan, but as a leader. And, as I walked off the field, Coach Tomlin shook my hand. "Good job," he said. I replied, "Thank you" ... I will never forget that moment. Sharing that story with my brother the next day on the phone [was] equally as special.