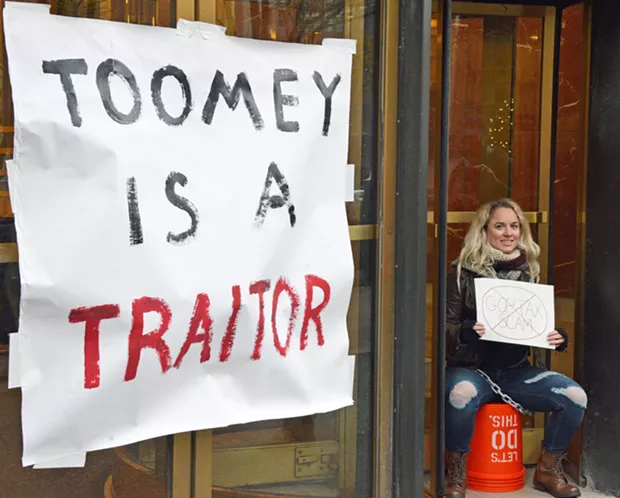 In 2017, Pennsylvania Sen. Pat Toomey (R-Lehigh) has had a consistent record of ignoring the requests of thousands of protesters. The senator has met with a few members of Tuesdays with Toomey, a left-leaning group organized in late 2016, and Toomey has held some highly-restrictive
tele town hall
meetings, but constituents upset with Toomey's choices told
City Paper
in September that they have grown
tired of trying to persuade him
of altering his votes and stances.
But on Dec. 4, a group of protesters, and two women in particular, hoped to reignite that fire. Chelsey Engel and Lindsey Disler chained themselves to the doors of Downtown's Grant Building, which houses Toomey's Pittsburgh office, for about an hour around 8 a.m. The pair left peacefully when police came and asked them to leave. Engel, of Dormont, said in a phone call with
CP
that she was motivated to protest to send a strong message to Toomey and Republicans in charge of writing the bill.
"Now is the time to show them exactly how we feel," said Engel. "My idea is us blocking an entrance, if you see that as inconvenience, then imagine how hard it is going to be when people have their health care stripped and income upended."
Engel said she is upset with how the bill is estimated to cut taxes for the wealthy, and after an initial tax cut to low-and-middle-income earners, will
raise taxes
on people who are outside of the 1 percent of wealthiest earners. The bill, if it passes through reconciliation with the U.S. House and is signed by President Donald Trump, will also end the individual mandate in the Affordable Care Act that requires Americans older than 26 to have their own health insurance. The non-partisan Congressional Budget Office estimates this means that 13 million people will lose their health insurance.
Engel added she's also upset with how quickly the bill was "rammed through" Congress. She noted that the passage of the tax bill through the House and Senate only took a bit over a month, while the Affordable Care Act took more than a year, and had multiple public hearings. "If they are willing to disrupt business as usual then I am too," said Engel.
Engel said she hopes to see more and more protests of the bill because the "stakes are really high right now." She added that she's noticed some increased interest in protests against Toomey, after a few months of downturn.
"From what I have seen on social media, people are going really hard on [Toomey]," said Engel. "I do think Tuesdays with Toomey tomorrow is going to get more intense."
And a slight uptick in interest does appear to be materializing. According to Facebook, the last two
Tuesdays with Toomey
protests in Pittsburgh (Nov. 28 and Nov. 21), had 11 and six people attend, respectively. On Nov. 5, 15 have announced they will be attending with another 36 saying they were interested. And the group of graduate-student workers trying to
form a union at Pitt
will also be holding a
demonstration
outside of Toomey's office Downtown on Dec. 6, and about 40 people will be attending, with more than 130 saying they were interested.
Both protests will start at noon in front of the Grant Building at 310 Grant Street, Downtown.