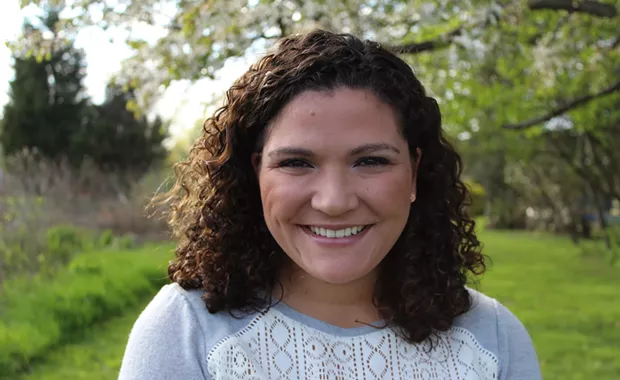 When Murrysville resident Aryanna Berringer was a kid, her father was arrested and jailed for marijuana possession. She is the youngest of 10 children, and her mother had to work three waitress jobs to make ends meet, since her father, a truck driver, could no longer support the family.
Berringer, a longtime Democratic Party activist and Iraq War veteran,
entered the race
to challenge incumbent Lt. Gov. Mike Stack (D-Philadelphia) back in May. She says her life experience is what motivated her to run for lieutenant governor; she hopes to counter any other candidates who may lack authenticity.
"Politicians that have been bred for these roles," says Berringer. "We don't often elect people who have lived through the life of the people they want to serve."
Lieutenant governor is often an overlooked office, says Berringer, but even in its current form, it can have a powerful effect. Berringer points out that Pennsylvania's lieutenant governor has a seat on the state's Board of Pardons, and thus could have influence in criminal-justice issues. Many municipalities, like Pittsburgh, have taken the step to decriminalize low-quantity marijuana possession, and Berringer says, for example, had her father been pardoned, it would have had a huge impact on her childhood.
She also wants to use the position to be an advocate for policy changes. "
Recreational marijuana
should be legal," says Berringer. "Not just the economic benefit to the state, but for the economic better [for] families, since [marijuana possession] convictions can upend families."
Berringer hopes to use the lieutenant governor's office to travel the state and campaign for other policies like a $15 minimum wage and the
Farm to School
initiative, which helps local farms sell fresh produce to public schools for kids' lunches. She also wants to use the seat to talk about issues that aren't always easy for Pennsylvanians to discuss openly.
"My dad is black, and my mom is white," says Berringer. "We talked about race, we need to talk about race. So much of struggles of race relations are just people being afraid to have the conversation."
Berringer says a Democratic lieutenant governor should make a difference for Pennsylvanians and one of her main objectives is to promote her policies to show residents that policies do help people.
"I am Democrat because without the policies put out by Democrats, I would not be the person I am today," she says.