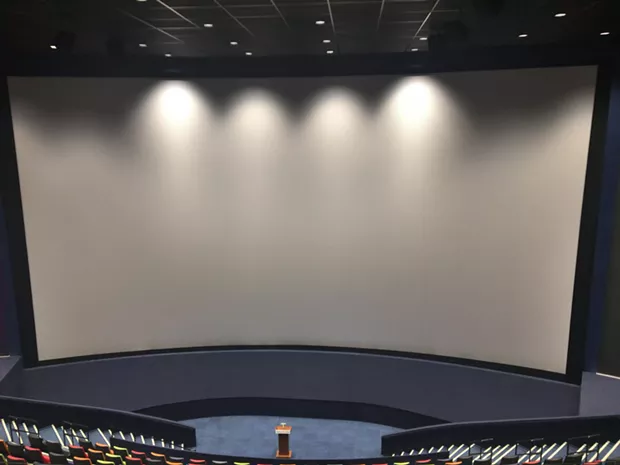 On Monday, the Carnegie Science Center opened the Rangos Giant Cinema, formerly known as the Rangos Omnimax Theater, after closing in July for renovations. The theater features a new 70-by-38-foot screen, making it the only "Giant Screen" in Pennsylvania, as certified by the Giant Screen Cinema Association (GSCA). In order to qualify as a Giant Screen, a theater must meet specific guidelines regarding the size of the screen and layout of the seats.
In his remarks, Science Center Co-director Ron Baillie called the new screen "the future of cinema." According to a survey conducted by GSCA, 70% of consumers said a theater being certified as a Giant Screen would affect their theater choice.
Before renovations, the theater held a dome-style screen, which could only play costly 70 mm film reels. "When we opened the Science Center in 1991, that was state of the art at the time. But fast forward 25 plus years and the industry has changed. Technology has changed," says Chad Hunter, director of Rangos Giant Cinema.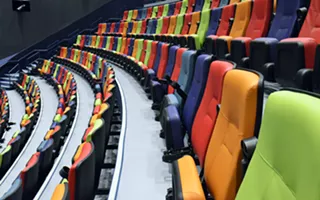 The Science Center will continue to focus on showing movies that meet its goal of educating and entertaining through science and technology. "We want to stay true to our mission," says Hunter. "We've had millions of families in here over the years seeing our science and educational films and we want to continue to do that." According to Hunter, the theater will maintain a ratio of roughly 75 percent educational and scientific films to 25 percent blockbusters and special events.
The theater re-opened with three nature-centric films: Amazon Adventure 3D, which depicts the discoveries of Charles Darwin contemporary, Henry Bates; Tiny Giants 3D, a look into the life of the world's small animals; and Animalopolis, a compilation of wild animals acting goofy. A big draw, however, will be Hollywood blockbusters, like the highly anticipated Star Wars: The Last Jedi. Future possibilities for the screen include concert satellite feeds, sporting events and video games.
Although Giant and 3D screens can sometimes induce motion sickness or headaches from the screen stimulation, Hunter believes that the updated technology will eliminate the disorienting feeling that previously caused some viewers to leave the theater. There will also be sensory-sensitive shows, with lights up and sound down, for some upcoming movies like The Polar Express.
The theater's renovation is part of the Science Center's broader expansion plan, which includes the PPG Science Pavilion opening in 2018 and a group of FedEx STEM learning labs.