DODO
, the latest immersive-theater production from Bricolage Productions, is up for four more evenings this week, but is completely sold out.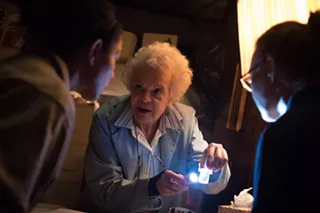 I experienced it myself last week, and that level of popularity is easy to understand. The
show
, which takes groups of six on two-hour night-time journeys through the Carnegie museums of art and natural history, is a series of theatrical enchantments taking advantage of the setting, and of the expertise in art and science housed therein.
The show traverses parts of the massive complex you've surely never seen, as well as familiar halls and galleries made new and strange. While there are themes (ecological, existential), there's really no story outside of your journey, though performers stationed along the way create a sense of narrative, delivering their scripted lines as well as improvised interaction with patrons. It's beautifully conceived and smartly choreographed, with a doozy of a climax and a denouement that's both literally and figuratively brilliant.
I won't divulge more detail, in case you'll be experiencing the show in its final week. (The groups of six visitors each depart in 15-minute intervals, with up to a dozen separate departures nightly. But if you don't have a ticket already, good luck: While there is a
stand-by option
, on the night I visited, a Pitt student who was attempting to fly stand-by told me she had already showed up on several nights to no avail. This is one show, it seems, that people really don't want to miss.)
Here's Michelle Pilecki's
review
for
CP
.
DODO
must wrap on Nov. 19. But for those who attended and want to talk more (and, theoretically, even for those who didn't get to attend but who are intrigued), Bricolage is hosting a free talkback Nov. 30. The event will include
DODO
's cast and crew as well as Carnegie Museum staffers.
The Nov. 30 talkback runs from 6:30-7:30 p.m., in the Carnegie Lecture Hall, at 4400 Forbes Ave., in Oakland. A cash bar at the Carnegie Café, and further discussion, follows.