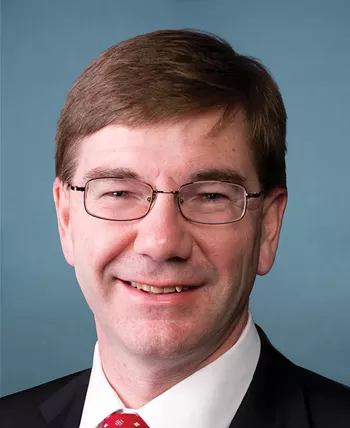 On Oct. 24, President
Donald Trump
, in a White House statement, applauded the passage of
House Joint Resolution 111
, which will eliminate a proposed rule that would have stopped financial institutions from forcing legal complaints to be settled out of court. Every indication points to Trump signing the bill into law when it reaches his desk. If and when that happens, customers will be barred from joining class-action lawsuits against big banks and the ilk, and instead will be forced to negotiate with financial institutions, and their powerful legal teams, one on one in arbitration.
And while this appears to be just another Trump action negating a rule created during President Barack Obama's tenure, this roll-back was actually proposed and sponsored by Pittsburgh-area U.S. Rep.
Keith Rothfus
(R-Sewickley). In an Oct. 24 statement, Rothfus said of the Obama-era proposed rule, "Plain and simple, this rule will harm consumers and line the pockets of trial lawyers—something that contradicts the very mission of the Consumer Financial Protection Bureau. It is yet another example of an out-of-touch Washington mandate handed down from this unconstitutional and widely unaccountable agency."
The Consumer Financial Protection Bureau (CFPB) was created in 2010 to shield consumers from unscrupulous practices of financial institutions and has been championed by tough-on-Wall-Street politicians like U.S. Sen. Elizabeth Warren (D-Massachusetts). And while Rothfus, who represents Pennsylvania's 12th U.S.
Congressional District
, claims that rolling back the rule will help consumers, the change comes at an odd time, considering the headlines made by Wells Fargo bank, and its fake-account scandal, and the security breach at credit-monitoring firm Equifax.
The Atlantic
Monthly
points out on Oct. 25 that
consumers could suffer
and companies like Wells Fargo and Equifax could actually benefit from the Rothfus' rule change. It writes: "The nullification of the CFPB's rule means that people who suffered financial harm or identity theft as a result of either of these large companies' lapses may not have the right to take them to court."
The U.S. Department of the Treasury issued a 17-page report before the vote, criticizing the CFPB rule. The Treasury report said the rule costs businesses "extraordinary" fees without providing many benefit to consumers. (It should be noted that the Treasury Secretary is Steven Mnuchin, the former executive vice president of financial giant Goldman Sachs, a company criticized for contributing to the 2008 financial crisis due to shoddy mortgage-lending practices.)
Also of interest is while Rothfus claims that the CFPB rule was an "out-of-touch" mandate, most Americans actually support the work of the CFPB. According to
five years of surveys
conducted by the Americans for Financial Reform and the Center for Responsible Lending, 74 percent of voters support the CFPB, with 85 percent of Democrats backing the organization and 66 percent of Republicans supporting it.
Even a 2016 Morning Consult
poll of Trump voters
found that a plurality of 41 percent of respondents believe the Trump administration shouldn't alter the CFPB.
Rothfus received a lot of
negative reactions on Facebook
from constituents after he announced his bill cleared the U.S. Senate. The bill easily cleared the U.S. House mostly along party lines, but received a 50-50 tie in the U.S. Senate. Vice President Mike Pence cast the tie-breaking vote.
Earl Lynch, who is listed as a constituent on Facebook, commented on Rothfus' page: "You could have given the consumer the freedom to choose between litigation and mediation when a conflict arose. But you decided to protect the big boys and screw me. You're not a Republican. You're a Corporationist."
Another constituent, Amanda Surratt, wrote, "Thanks for making it impossible for regular folks to stand up to ultra rich & powerful corporations."
Some constituents even insinuated that Rothfus' push to change the CFPB is tied to campaign donations he receives from financial institutions and banks. It's impossible to determine if donations influence Rothfus' actions, but the congressman has received significant backing from big banks and other financial organizations.
Dollar Bank, the Pittsburgh region's largest community bank, has given Rothfus $13,700 since 2013, according to campaign-finance-tracking website
followthemoney.org
and 2017 campaign-finance disclosures. Since 2013, Goldman Sachs has given $10,500 to Rothfus' campaigns, and Equifax even gave $2,000 to Rothfus' campaign this year.
Since 2009, Rothfus' campaigns have received more than $140,000 from commercial banks. Overall, the finance, insurance and real-estate industries have been among the biggest contributors to Rothfus' campaigns, funneling about $865,000 to him over the years.
A request for comment from Rothfus' office went unanswered as of press time.
Rothfus currently has four
Democratic opponents
challenging him for his seat: Aaron Anthony, of Shaler;
Tom Prigg
, of McCandless; John Stolz, of Shaler; and
Beth Tarasi
, of Sewickley. Rothfus will face re-election in 2018.